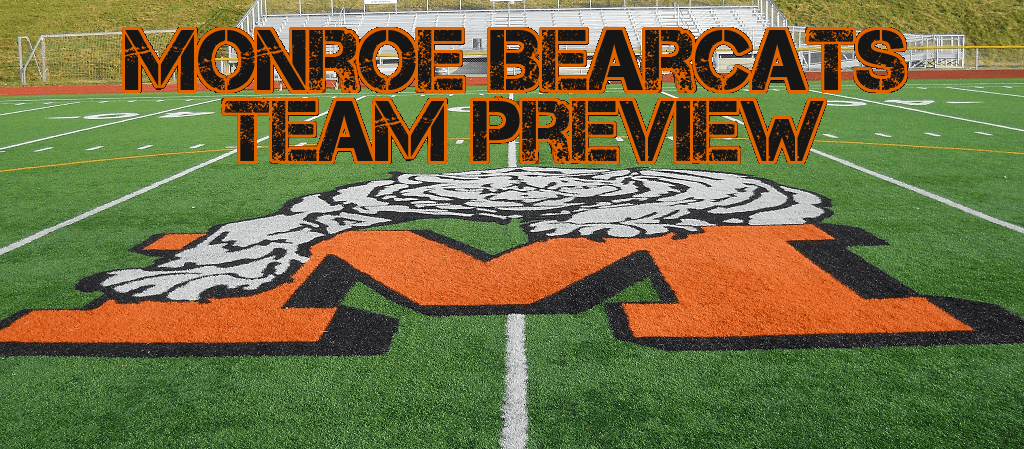 Key Players
Zach Zimmerman QB ('17, 6'1″ 185) – Zimmerman is the straw that stirs the drink for the offense. He has a great arm, is sneaky athletic and is the true definition of a leader.
J.J. Jerome RB/LB ('17, 6'0″ 210) – Jerome is one of the state's top returning RB's and will play a lot of defense this year. He holds an offer from Montana State, and will likely gain more once film gets around.
Blake Bingham WR/DB ('17, 5'11" 155) – Bingham is a returning three year starter on defense and is coming off a first team All-Wesco season. He is one of the more underrated two-way athletes in the north end.
Josh Jerome OL/DL ('18, 6'2″ 275) – The younger, but bigger, brother of J.J. is the top line prospect for the Bearcats and brings a mean mentality to both sides of the ball.
Isaiah Cole WR/DB ('18, 5'8″ 177) – Cole does a little bit of everything for the Bearcats and will be a three year starter. He led Bearcat receivers in Receptions, Yards and TD's last season
Outlook
The Bearcats will be in our top ten team rankings to start the season. Head coach Michael Bumpus has done a great job in just over a year at the helm, and looks to have the program set for a few years.
Offensively they return nearly 3,000 total yards of offense from last year, and are led by QB Zach Zimmerman . A year ago he was voted 2nd team All-Wesco and has a real shot to be the league's MVP this season. When the game is on the line, you will want the ball in Zimmerman's hands.
RB J.J. Jerome is one of the more unknown backs in the state as he doesn't get a lot of attention being in Monroe. He has good speed, runs with a purpose and is good out of the backfield. Jerome will see action at LB this season, and might project best defensively at the next level. When Jerome needs a break, look for the Bearcats to go to Deacon Thibault ('17, 5'9″ 180).
With a former WR as a head coach, you know the Bearcats are going to spread the ball around, and Zimmerman will have a plethora of receivers to choose from.
Isaiah Cole is Zimmerman's favorite target and was voted 2nd team All-Wesco last year at WR, and 1st team for his work as a kick returner. Isaiah Lewis ('18, 6'0″ 200) is a big physical target that does a great job using his body to create separation, while Blake Bingham brings his athleticism and playmaking abilities to the offense and should be a key piece.
A name to keep an eye on here is Kainalu Batongbacal ('18, 5'9″ 162). He is a sparkplug who is capable of working in the slot, at runningback and even QB with some wildcat stuff. Jason Cyr ('18, 6'2″ 185) is another big target for the Bearcats and adds to the overall depth at the skill positions.
The line is anchored by hard-nosed LG Josh Jerome , who was the only underclassmen voted to the All-Wesco OL. Nathan Mead ('18, 5'11" 305) is also back at Center and really solidifies the line and brings more toughness inside. Peyton McMahon ('18, 6'2″ 247) will take over at RG this season and has the makings of an All-Wesco lineman.
Elijah Tofilau ('18, 6'2″ 305) brings more size and nastiness to the RT spot, while Carter Habich ('18, 6'3″ 268) and Cody Schwindt ('17, 6'3″ 185) will both likely see time at the LT spot.
Josh Jerome, Carter Habich and Peyton McMahon will all go both ways and solidify the interior of the DL. Running against this group wont come easy.
Isaiah Lewis plays an end spot and projects best on the defensive side of the ball. He is coming off a 1st team All-Wesco sophomore year in which he finished with 54 tackles, 13 TFL, 7.5 sacks and 3 fumble recoveries. Opposite of Lewis at the other end spot will be Cody Schwindt.
Replacing Dillon Fargo at LB will be tough for the Bearcats, but Josh Felder ('17) and Ricky Baker ('17, 5'11" 200) look more to be up to the task. Add in J.J. Jerome and Deacon Thibault, and you have four speedy linebackers that look for contact.
The defensive backfield is led by Blake Bingham, who returns following a 45 tackle, 4 INT season of a year ago. Isaiah Cole finished last season with 29 tackles and two INTS, and will see plenty of time again this season. Adding depth to the secondary are Kainalu Batongbacal and Johnny Adams ('17, 5'10" 150).
Bottom Line: Monroe enters the season as NEI's favorite to win the Wesco 4A conference. They have big time playmakers, a great mix of youth and experience, and depth across the board. They play a good non-conference schedule vs Meadowdale and at Mount Si, so we should learn a thing or two about them very early. Week 9 at Lake Stevens will likely be for the Wesco title.
Key Games
vs Kamiak (9/16)
@ Glacier Peak (9/30)
@ Lake Stevens (10/28)