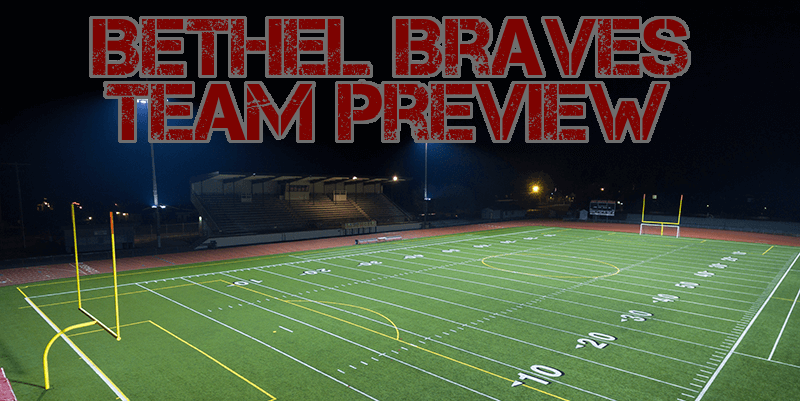 Key Players
Jarrell Anderson WR/DE ('18, 6'4″ 220) – Anderson is one of the state's top athletes and will be just a junior this fall. He projects as a TE and already holds a D1 offer, and will continue to see his stock rise as the season progresses.
Collin White WR ('17, 6'0″ 200) – White is a great compliment to Anderson. He has great all-around athleticism, runs crisp routes and might have the best hands on the team.
Lucas Olson LB ('17, 6'2″ 220) – Olson returns as one of Bethel's leading tacklers. He is great against the run and will make it very tough to run up the middle.
Machiah Lee SS ('18, 5'11" 175) – Lee flies around and has a nose for the ball. Last season he led the Braves in tackles and will need another big year for Bethel to be successful.
Savon Bell-Johnson TE ('17, 6'6″ 220) – Bell-Johnson is a mismatch for defenders and gives the Braves yet another big target on offense. The coaches think there is big time potential here.
Outlook
The Pierce County League has been reborn and year three of the Mark Iddins era at Bethel begins by moving into the new conference. Out are games with rivals Graham-Kapowsin and Curtis, and in the likes of Lakes, Lincoln and Bonney Lake.
Quarterback is a bit of a question mark for the Braves, as there are three capable options that might see time. Tristyn Gese ('18, 6'2″ 205) started games last season while Bryce Missey (WSU) was injured. Nate Hughes ('19, 6'0″ 150) saw limited action, while JK Crespo ('18, 5'11" 165) transfers in from Orting.
While the QB may not be settled, his targets are. WR's Jarrell Anderson and Collin White form one of the better duos in the state. No matter who the QB is, they will be looking at these two more than anywhere else.
Trenton Weseman ('18) is a great possession type WR that looks to be ready for a breakout year, while Savon Bell-Johnson adds even more size and depth from his TE spot.
Bethel's offensive line loses some big time bodies from last season, but return three year starter Byron Willis ('17, 6'5″ 265). Bethel coaches see D1 capabilities in Willis. Stepping in at center will be Chris Sargent ('17, 6'0″ 220). Elected as a team captain, Sargent will really have to anchor the big boys up front.
The rock in the middle of the DL will be TJ Edwards ('18, 6'0″ 290). Stats my not be huge for Edwards, but his real worth will be in taking up multiple blockers. Jarrell Anderson is slated to be a DE/OLB. His size and athleticism will make things tough on the outside in both the run and pass game.
Linebacker play is a staple at Bethel, and this year will be no different. Lucas Olson and Seth Smith ('17, 5'10" 210) return after fantastic junior seasons and will be counted on to lead the Bethel defense this season. Joehnis Joyce ('17, 6'3″ 190) is a tremendous all-around athlete as a hybrid LB/DB that could really breakout this season.
Lane Brown ('17, 5'9″ 150) and Machiah Lee form one of the better safety duos in the state. Brown returns at FS after a six interceptions junior season, and Lee is an athlete the coaches think could be a D1 guy.
Cayden Caudle ('18) and Adrian Tedtaotao ('18) are impact juniors in the secondary. Caudle is a solid corner, while Tedtaotao show good all-around athleticism.
When the Braves lineup to kick it will Ty Norman ('18) getting the call. He is a solid kicker with good accuracy.
Bottom Line: The all new PCL will be very tough. Bonney Lake, Lakes and Lincoln are all top 10 caliber teams. If Bethel can get good QB and OL play, the offense has the weapons to be very good. They will need to be sound defensively and force teams to be one-dimensional.
Key Games
9/16 @ Lincoln
9/23 vs Bonney Lake
10/28 vs Lakes