Click for Nathaniel Holcomb Highlights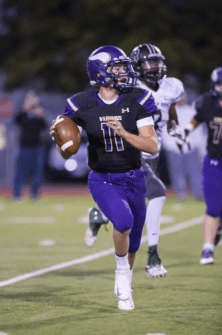 After an offseason of hard work where he focused on the finer points of playing the quarterback position, 2017 Puyallup (Wa.) QB Nathaniel Holcomb got off to a fast start last Friday and hopes to lead the Vikings to the post season this fall.
"With my team, I am a vocal leader," Holcomb told Northwest Elite Index.
While that might be true, a case could be made that the senior signal-caller also leads by example after he completed 24 of his 37 attempts for 427 yards and six scores, leading his team to a 49-24 win over rival Curtis.
"I probably lean more toward being a pocket-passer," Holmcomb said. "I can scramble around and run when I need to, keep plays alive with my legs, but I'm not that guy who is going to run the read-option or be the first option as a runner.
"A big thing with me is the connection I have with my teammates, especially my receivers. We were out throwing almost every day in the summer and I have some great guys to throw the ball to and I trust that they are going to come down with it when I throw it up there."
One of the big things that Holcomb focused on this offseason was working on reading defenses to help him make quicker decisions.
"I watched a lot of film," Holcomb admitted. "Actually, I watched a lot of videos on how to watch film and what to look for when I did study film, so it was a really productive summer for me.
"It'll help me when I get to the line and make my pre-snap reads. It also helps me recognize when I need to change a play or whatever. I think that's really going to help me this season."
As far as recruiting is concerned, Holcomb has received some interest from smaller schools, but the 6'1″, 195-pounder is hoping that a very productive senior season leads to more than just interest from schools.
"The main ones are Linfield, Redlands, Willamette and Western Oregon," Holcomb noted. "Really it's just been letters to this point, but I'm hoping to get more interest after schools see my senior season and what I can do."
Holcomb is a three-year starter, having started as a sophomore and junior, but both of those seasons ended in injuries.
"My sophomore season I had a concussion and I missed the last five games of our season last year with a torn MCL in my left knee, but I am back healthy and 100% and I think this is going to be a big year for us," Holcomb said.
With his natural leadership skills as well as his ability to spread the rock to his receivers, Holcomb is an intriguing prospect with a lot of upside. He's definitely a name to keep an eye on in the coming weeks and months as the 2016 season progresses.