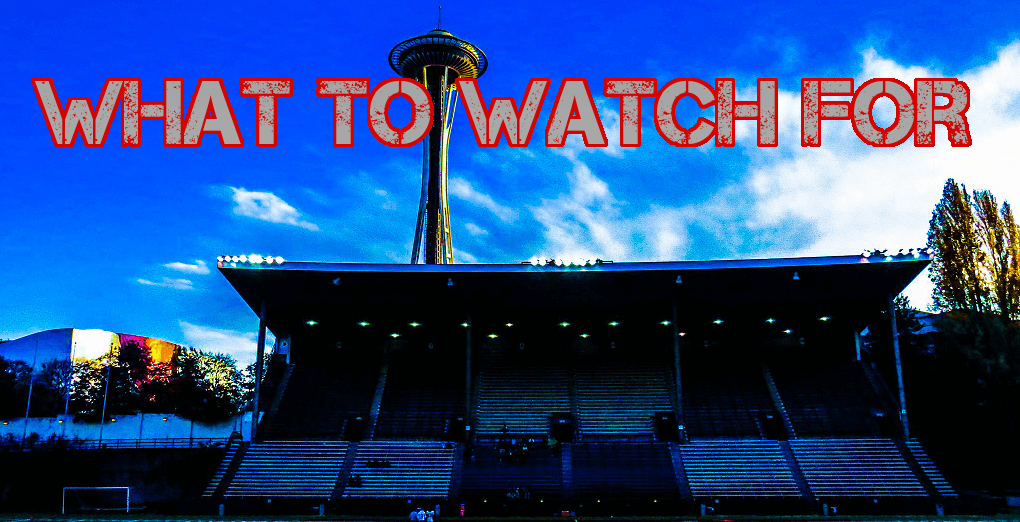 My Schedule
Thursday – Bethel Braves @ North Thurston Rams – South Sound Stadium – 7:00pm
Friday – #1 Archbishop Murphy Wildcats vs Bishop Blanchet Braves – Seattle Memorial Stadium – 5:00pm
Friday – Shelton Highclimbers vs #2 O'Dea Fighting Irish – Seattle Memorial Stadium – 7:30pm
Saturday – Kennewick Lions vs Cleveland Eagles – Seattle Memorial Stadium – 12:00pm
Saturday – #10 Juanita Rebels vs Garfield Bulldogs – Seattle Memorial Stadium – 2:30pm
Saturday – Roosevelt Roughriders vs Ballard Beavers – Seattle Memorial Stadium – 5:00pm
Saturday – #1 Eastside Catholic Crusaders vs Skyview Storm – Seattle Memorial Stadium – 8:00pm
Thursday
Not many games on Thursday night this week. I am headed down I-5 to Lacey and South Sound Stadium where the Bethel Braves take on the North Thurston Rams. Bethel is coming off a tough 34-31 loss to the Yelm Tornados, while North Thurston got a 28-27 win over Auburn Riverside. Bethel QB Tristyn Gese ('18) complete 24 passes for 285 yards and 4 TD's, two to 6-foot-4 WR Jarrell Anderson ('18), while his counterpart in this one, NT's Clay Christian ('18), threw for 234 yards and 2 TD's.
My other thought this week was to go see the Oak Harbor Wildcats (1-0) at Kamiak Knights (1-0). Princeton Lollar ('17) rumbled for 109 and a TD last week in a 27-21 win over Mariner. Ben Barton ('18) carried Kamiak, with 146 yards rushing, to a 17-0 win against Blanchet.
There was a thought to Joe Albi Stadium in Spokane for two games, but with how difficult the Greater Spokane League makes it on me to cover games, it simply isn't worth it. Would've been nice to see Coeur d'Alene (1-1) at Mead (1-0) and Cheney (0-1) at North Central (1-0).
Friday
Any time I get a chance to see two games in one night I am intrigued, especially when it is four good teams.
By now I am sure you have heard Archbishop Murphy beat Issaquah 73-0, so you can imagine how excited I am to see them play this week. Blanchet is coming off a tough 17-0 loss in which they didn't generate a ton of offense, including only 19 yards rushing.
As a guy who loves running the football and tough defense, I find #2 O'Dea to be a lot of fun to watch. The held a high powered Lincoln offense to just 14 points last weekend and boast one of the state's best run defenses. The Highclimbers put up 49 points last week in a win vs North Mason, so they do have offensive fire power.
Stadium (1-0) heads out to Roy Anderson Field to take on #8 Peninsula (1-0). These are two of the more under-the-radar teams right now and it should make for a great matchup. Stadium QB Hunter Wending ('18) completed 31-of-41 passes for 376 yards and 3 TD's in a win over Steilacoom, while Peninsula used a combination of tough defense and running the ball with Blake Cantu, Kenny Easton and Camron Lewis, to grind out a 22-0 win over Mt. Spokane.
Another matchup in the Tacoma area to keep an eye on is #9 Lakes (0-1) at Bellarmine Prep (1-0). The Lancers are coming off a tough 36-27 loss to Eastlake, in which they had a 21-12 halftime lead. Bellarmine Prep made easy work of Rogers with a 49-0 win, on the backs of Czarshay Thomas and Matt Money, who combined for 262 yards on the ground and 4 TD's. This is one of the top non-league games statewide.
Two big games in SW Washington this week as #7 Mountain View (1-0) takes on Union (1-0) and Sherwood (0-10) of Oregon crosses the border to take on #7 Camas (1-0). Both Mountain View and Union took to the road in week one. Mountain View made a long trip to Spokane last week and came away with a 32-13 win over Ferris, while Union went east along the Columbia river to Hermiston and pulled out a 36-27 win. Camas plays a second Oregon school this week after throttling Central Catholic last week 42-10. Sherwood is one of Oregon's top ranked squads, but lost week one to Westview 27-21 in OT.
Good game in 4A this week when #4 Monroe (1-0) heads to Mount Si (1-0). Monroe QB Zach Zimmerman threw for 282 yards and 4 TD's, as the Bearcats hammered Meadowdale 55-9 at home, but Mount Si will be a different task as the Wildcats have one of the state's best home field advantages.
Huge 8-man game this Friday as the #1 Neah Bay Red Devils (1-0) meet up with the #3 Lummi Blackhawks. These two teams play multiple times a year and have played in the state semifinals 6 of the last 7 years, and have played two or more times in 10 of the last 11 years. To say these two are familiar with each other is an understatement.
Saturday
Four games in one stadium? I can't possibly say no to that!
We start with a noon game between the Kennewick Lions (0-1) and Cleveland Eagles (0-0). Cleveland is coming off a bye, so this is the debut of new head coach Paul Arnold. Kennewick went on the road last week, losing 28-7 in a non-conference game to defending 2A state champion Prosser. Cleveland always has a ton of unknown talent so it will be fun to get out and see the Eagles.
As many of you know, I am a Juanita grad, so the 2:30 game at Memorial Stadium will be fun for me as the Rebels (0-1) take on the Garfield Bulldogs (1-0). Juanita struggled to get anything going without QB Dexter Mell, who returns this week, but it sounds like the Rebels will be without Army All-American RB/DB Salvon Ahmed who broke a finger in last week's game. Garfield QB Max Nall had a really nice game in week one with 170 yards through the air and another 70 on the ground, with two TD's, as Garfield pounded Newport 53-24. Keep an eye on under-the-radar WR Keith Edwards (6'2″ 190) of Garfield, who is Nall's top target.
The 5:00pm game features two Metro League rivals in Roosevelt (0-1) and Ballard (0-1). The Beavers won the public school side of Metro last season, but were beaten by what looks to be a solid Lynnwood team 56-20 in week one. Roosevelt HC Matt Nelsen is one of my favorite coaches in the state. He loves his power run game and I look forward to seeing it on display this weekend.
#1 Eastside Catholic (1-0) and Skyview (1-0) play in the main event starting at 8:00pm. Crusaders QB Zach Lewis 29-of-36 for 324 yards and 3 TD's in knocking off Gonzaga Prep 21-7. The nation's #2 ranked TE Hunter Bryant was on the receiving end of 17 of those completions, and will be a force again this weekend. Skyview is coming off a 31-21 win over Sunset (Ore.) in which they rushed for nearly 350 total yards. Eastside Catholic did a great job against the run last week, and will have to do much of the same to be successful again.