Click for Princeton Lollar Highlights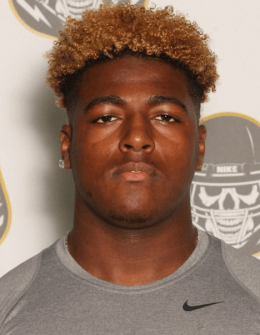 2017 Oak Harbor (Wa.) RB Princeton Lollar is a big back whose senior season is off to a great start. He updated Norhtwest Elite Index recently on recruiting and where things currently stand.
"Things have been going well," Lollar said recently. "I still just have my offer from Northern Arizona, but I have had a lot of game invites from Washington to go down and see a game and I have been talking a lot with UNLV, Portland State, Montana and UTEP.
"I am hoping to get out and see the schools most interested in me. UNLV is a school I want to get out and see and possibly Portland State and Montana during the season."
The 6'0, 240-pounder's senior season is off to a fast start as he's helped lead his team to a 2-0 record while running for 384 yards and four touchdowns including a 275-yard, three touchdown effort in his team's 55-21 win over Kamiak last Thursday.
"I had a good game," Lollar said. "Our line was blocking well and I just had it rolling.
"I feel like I have really stepped up as a leader this year, but we're only in week two right now, so we just need to keep focused on keep working hard to make sure we continue this roll we're on."
Lollar's fast start shouldn't come as a surprise since last season he managed to rush for over 1,100 yards and 12 scores while splitting carries.
As far as where schools see him playing, Lollar said everyone has said they see him on offense.
"Mostly tailback or fullback," Lollar said. "I love playing offense so I'm cool with it."
With his size and underrated athleticism, Lollar is a solid looking prospect who we could easily see hauling in at least a few more offers before the end of the season.
We'll continue to keep tabs on Lollar in the coming weeks and we will update news on him as it happens.