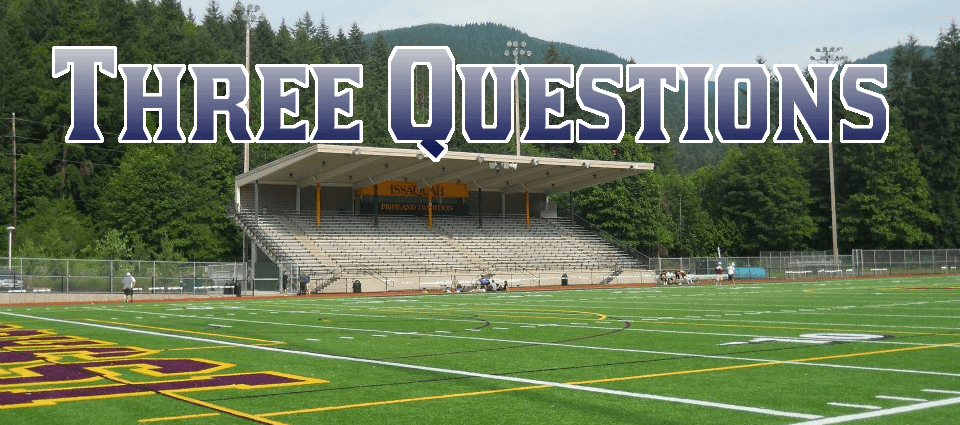 This is something new I plan on doing each week, it might turn into part of the podcast, but for now it will be an article on the site.
I get asked a lot of questions during the week and while I am out at games, some of them good questions, so we might as well answer them for the masses.
Question: Is Archbishop Murphy the best team in the state regardless of classification?
I am always wary of saying a 2A team could beat a 3A or 4A team, so this was a tough question for me. Sure, they have blown out two higher class teams in the first two weeks, but it is VERY rare for a 2A school to even be looked at as a top ten team in the state.
You could make an argument for a few teams… Sumner, Richland, Eastside Catholic, Graham-Kapowsin…
That being said, after watching the Archbishop Murphy last weekend at Seattle Memorial Stadium, they are the best team in the state.
There are only a handful of teams I have seen in the last decade that play with the same speed as Archbishop Murphy. Anfernee Gurley, Kyler Gordon and Collin Montez are big time playmakers on both sides of the ball, and the ATM coaches do a great job of rotating to keep them fresh.
We saw QB Connor Johnson at the Northwest 9 and he does a great job commanding the Archbishop offense. He isn't asked to make a ton of plays, but he comes through when it is his turn.
In the trenches they have as much beef as I can ever remember from a "small school". My favorite position on the field is the center, and the Wildcats have one of the best in the state with Martin Napeahi Jr. He anchors a line that is big, fast and aggressive.
Defensively they suffocate their opponents with one of the best front sevens in the state. They have a tough linebackers, Emmanuel Osuoha and Ben Hines, that set the tone on just about every play, and an opportunistic secondary that allows them to fly around knowing their backend is safe.
At the end of the day, they are a 2A school and will not play many big time opponents, but I feel safe saying they are the state's best team.
Question: Who is the best winless team in the state?
There are some really good teams that have yet to win a game in the state of Washington. Some because they have played tough opponents, some because they have injuries, some just haven't been able to catch a break yet.
You could make a case for the Curtis Vikings, Lakes Lancers or maybe even the Lakewood Cougars, but the answer is the Gonzaga Prep Bullpups.
The defending state champs have been knocked down early in defending their title, but they are far from out, and could still end up winning the Greater Spokane League when all is said and done.
Gonzaga Prep started the season by playing at Eastside Catholic and hosting Skyline. Truth be told, had they beaten Skyline last Friday, the Spartans would be the answer to this question.
LB Taj Hoard, DB's Armani Marsh and Sam Lockett are three of the best defensive players in the state and lead a nasty defense that will carry this team, but they started to come around on offense this past week. QB Ryan Gross looked more comfortable, and it was huge to get WR Devin Culp back after leaving week one with an injury.
There is too much talent and head coach Dave McKenna has too good of a staff for the Bullpups to be down long.
This week could be just what the doctor ordered, as they get a struggling Ferris Saxons team that has lost by almost three TDs in each of the first two weeks.
Question: What is the toughest conference in the state?
This is a question I get a lot, and every year I am quick to answer Kingco 4A, but 2016 looks different.
I still think Kingco 4A is very tough, and anyone picking the Greater St. Helens League 4A would have a great argument with Camas, Battle Ground, Skyview and Union all looking very tough.
There is some tremendous football played in the Northeast 2B conference with the likes of Liberty (Spangle), Northwest Christian, Asotin, Lind-Ritzville/Sprague and Colfax.
The Northwest 2A is tough with Sedro-Woolley, Burlington-Edison, Lynden and even Blaine, but top to bottom, the SPSL is the best 4A conference in the state.
SPSL 4A is a conference that is going to beat up on itself during league play with the likes of Sumner and Graham-Kapowsin, who are currently ranked as NEI's top two teams. Bellarmine Prep comes in at #10 with two convincing wins, and don't overlook an Olympia team that has played two great games thus far.
Teams like Puyallup and Emerald Ridge, will not be on many radars, but these are quality football teams that could compete at the top of other conferences.
Curtis and South Kitsap, both 0-2, have shown flashes of being tough teams as they have both very well against Graham-Kapowsin.
This is a question we might visit again later in the season, but for now I am confident in saying the SPSL 4A is the state's toughest conference.