Click for Conor Bardue Highlights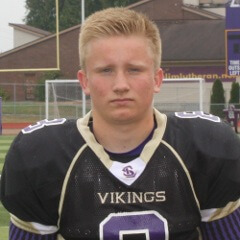 2018 Lake Stevens (Wa.) QB Conor Bardue had some big shoes to fill this season, but that hasn't phased him and he's put up some big numbers in the first two weeks of the 2016 football season.
When Jacob Eason graduated and headed to Georgia, many thought that the Vikings would take a step back, at least offensively, but the junior has picked up where his former teammate left off and has put up some big numbers as he's completed 79.6% of his passes for 613 yards with 11 touchdowns and one pick.
"(Eason and I) worked together during practices for those two years and I used those opportunities to raise my game level," Bardue told Northwest Elite Index. "Yes, I learned a lot from him, we would throw two balls during practice sessions, which would enable me to work on timing and read progressions while also learning what he did really well and what mistakes he made."
What really has set Bardue apart from other young signal-callers is his accuracy, something he takes pride in.
"I'm extremely accurate and I have a strong arm, good footwork, a good understanding of the offensive side of the game and I have good pocket presence and down field vision.," Bardue noted. "I worked on my release point. I was a little lower than I wanted to be so I worked on that a lot, plus you always need to work on your footwork so improvement there was definitely what I focused on."
This past summer, Bardue hit several camps including the Northwest Elite Camp, The Opening event in Seattle and a handful of 7v7 tournaments.
As far as recruiting is concerned, things have yet to really get off the ground, but if he continues on his current trajectory, he should see more schools start to stand up and take notice.
"Mainly it's just some letters from Washington. That's about it right now," Bardue added.
The 6'1″, 192-pounder is one of the breakout stars in the state so far this season. Not many people knew about him before the season started, but with his outstanding accuracy and command of the offense, he should continue to put up big numbers in the WESCO and he will likely wind up being one of the top passers in the region over the next couple of years.