Click for Canon Racanelli Highlights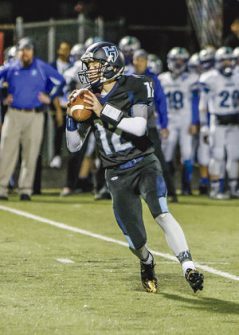 Hockinson (Brush Prairie, Wa.) is a rising team in the southwest corner of the state and 2018 QB Canon Racanelli is the leader of one of the most explosive offenses in the region.
While leading his team to a 2-0 record, Racanelli, who started as a sophomore as well, has put up some big numbers — 46 of 88 for 806 yards with 11 touchdowns and one interception — including a 429-yard, five touchdown effort in last week's 41-14 win over Prairie.
"We're playing really well right now," Racanelli told Northwest Elite Index. "I'm getting good protection and my receivers are playing really well too.
"We still have some tough games ahead of us, so we're just taking it one week at a time and making sure we're focused on our goals of winning the league and making the playoffs and then we'll worry about what happens when we get there."
Racanelli, a 6'0″, 170-pounder, has good feet and a strong arm, but he said he prefers to sit back in the pocket and let his teammates make plays.
"I feel like I am at my best reading the defense and getting the ball into the hands of our playmakers," Racanelli noted. "We have some really good players, so they make it pretty easy on me.
"I have good footwork and I really feel like I can read defenses pretty well. Our coaches do a good job of getting us prepared, so I feel pretty confident every time I go into a game."
On the recruiting front, things have yet to really start rolling, but he did hit a couple of camps this summer.
"The two I went to were Eastern Washington and Montana," Racanelli said. "I spent a lot of time this summer working with my teammates — throwing a lot, lifting weights five times a week — so I didn't get out to as many camps as I'd like to, but that will sorta take care of itself I think.
"I'm planning to hit camps next spring and summer, so I'll get out there and show what I can do."
Racanelli is a rising star in the exclusive world of high school quarterbacks. He's got a lot of the requisite tools to be successful at the next level and he should start to see things pick up once schools get a look at what he can this season.