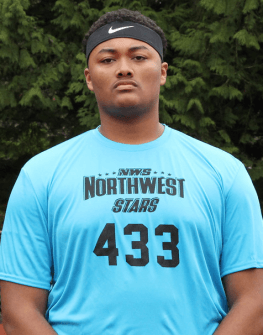 2017 Stadium (Tacoma, Wa.) OT John Blasco has seen things pick up on the recruiting front and he recently received his second FBS offer.
"I already had the offer from Hawaii and last week, Colorado State became the second school to offer me," Blasco told Northwest Elite Index. "They said that they really liked how I did at the camp they saw me at and felt like I was the most aggressive guy there.
"They said they felt I was a good fit for their team and their offense, so they said they just wanted to offer me."
In addition to the two schools that have offered him, Blasco said he's also hearing from a handful of other schools.
"The main ones I have been hearing from is Utah State, Montana, Washington, Oregon State, Oregon and Eastern Washington," Blasco said. "A lot of the schools have said they just wanted to see me and evaluate me a little bit more so that's sorta where things stand with them.
"I'm just taking the process slow. I'm not in a hurry, so I'm willing to wait and see what else is out there.
"Both Hawaii and Colorado State have said they want me to get out for games and that I can show up anytime because they would love to have me, but I'm not going to take my official visits until after my season is over."
Blasco is playing both ways this season — left tackle and defensive end — and he said he's having a great time playing with his team.
"This offseason, I worked really hard on getting my weight down andmy footwork and footspeed," Blasco said. "I actually went out and worked out with my uncle who played for the Cincinnati Bengals and he's a personal trainer out there and I was there with him for most of the summer and I came back 30 pounds lighter.
"When I got there, the first day they weighed me in at 320 pounds and when I started (training) camp, I was 290, so I really was focused on eating right and getting in better condition."
Blasco and his teammates will take on Mount Tahoma on Friday night in week four of the high school football season.