Click for Mack Minnehan Highlights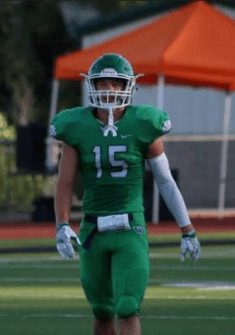 2017 Woodinville (Wa.) CB/RB Mack Minnehan is a leader both on the field and off of it and he's one of the top defensive back prospects in the state this year.
"I love playing defense," Minnehan said recently. "I just feel more comfortable on that side of the ball. I've been playing defense since I was in little league and my dad (Mike) played defense in college (at Western Washington) so it sorta just has been something I grew up with."
While helping to lead one of the top defenses in the state, Minnehan has totaled 12 tackles, one forced fumble, one fumble recovery, two tackles-for-loss and three pass breakups and he's been a key contributor on offense, carrying the ball 20 times for over 120 yards.
Last season, Minnehan led Kingco with seven interceptions and that was while missing four games with an injury.
"I feel like I read things really well and I feel comfortable in coverage," Minnehan said. "I also like to get downhill and make tackles in the box.
"I am pretty aggressive and I maintain a lot of discipline in man coverage. The coaches also like what I bring to the defense with my leadership."
This past summer, Minnehan worked hard on perfecting his craft and he focused on getting himself to a point physically where he could be a force.
"Between my sophomore and junior year, I was dealing with a back injury, so I couldn't really lift or do anything like that in the summer," the 6'0″, 185-pounder said. "So this past summer, I really took advantage of being fully healthy and I hit the weights hard.
"I lifted five or six days a week and worked on getting better at everything.
"I also cut my 40 time from a 4.8 to a 4.59, so I'm bigger, I'm faster and I feel like I am ready for anything."
On the recruiting front, things have been a bit on the slow side, but things have started to pick up.
"The schools showing me the most interest are D-2 schools, but I've also been hearing from Eastern Washington, Portland State, Montana, Northern Colorado and Washington State," Minnehan noted.
While he has yet to receive any offers, Minnehan is a special talent and the type of player coaches can build a defense around. He's a strong leader, he's possesses great instincts and he eat, breathes and sleeps football.
Expect things to pick up for Minnehan in the coming weeks as more schools get a good look at what he can do on the football field and for him to have several options when February rolls around.
Woodinville will take on Bothell in a big rivalry game this Friday.