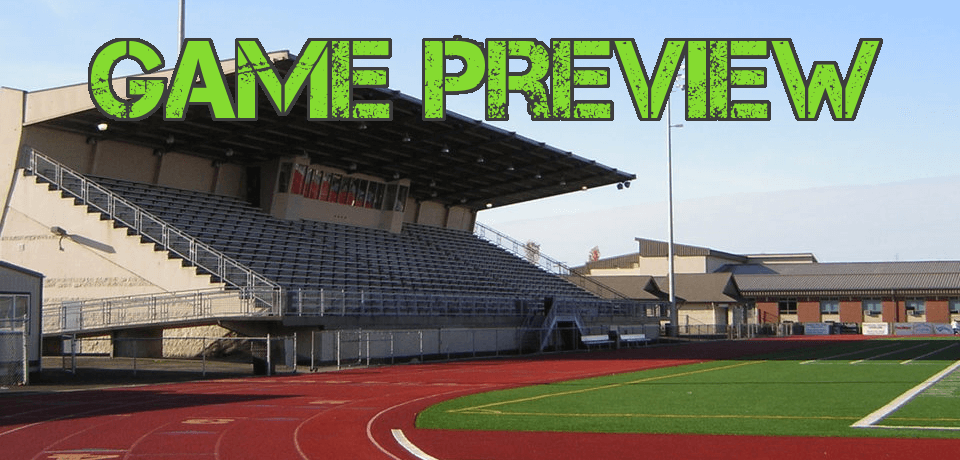 On May 24th I tweeted that the Graham-Kapowsin/Sumner game was 1A vs 1B in the 4A classification, and that ROOT Sports better have it… Fast forward four months and here we are…
ROOT Sports will be broadcasting this Thursday's game, live from Sunset Chevrolet Stadium in Sumner. To find your local ROOT Sports station, visit their Channel Finder.
This game features plenty of top talent to intrigue the masses, and two of my favorite coaches. Below you will find a breakdown of each position.
Quarterback
Graham-Kapowsin: Dylan Morris, 2019, 6'1″ 185.
Sumner: Luke Ross, 2018, 6'2″ 175.
Both teams feature Northwest 9 quarterbacks. Dylan Morris is one of the top 2019 recruits in the entire nation with offers from Nebraska, Washington and Washington State. Luke Ross doesn't come in with as much fanfare, but he is no slouch. Ross commands the offense and has the ability to move the ball around, he simply isn't asked to do it too much, but is completing 70% of his passes on the season.
Runningback
Graham-Kapowsin: Micah Smith, 2018, 6'0″ 190. (FB) Aaron Olmos, 2019, 5'10" 215.
Sumner: Connor Wedington, 2017, 6'1″ 295. Tre Weed, 2018, 6'1″ 190.
Wedington is committed to the University of Washington, and does a little bit of everything for the Spartans and will rarely leave the field. Tre Weed is a great compliment to Wedington in Sumner's Split-Back offense. The two have combined for over 800 rushing yards and 12 touchdowns through three games.
Micah Smith could be the next coming of Wedington in the State of Washington, and has shown through the first three weeks that last year's injury is behind him. Smith has abilities on the defensive side of the ball and could project as a DB, but for now he is emerging as one of the state's top backs in the 2018 recruiting class. Not many teams run a traditional I-formation offense anymore, so seeing a FB is refreshing to us traditionalists. Olmos is tough and does a great job clearing the path for Smith.
Wide Receiver
Graham-Kapowsin: Eian Olmos, 2017, 6'1″ 200. Tre Mason, 2018, 6'0″ 170. (TE) Tyler Wheeler, 2018, 6'0″ 200. Thomas Wheeler, 2018, 6'0″ 195. Jeremiah Kekoa, 2018, 6'0″ 185. Drew Hagen, 2018, 5'7″ 170.
Sumner: Tyson Rainwater, 2017, 6'2″ 180. Alex Zaragoza, 2017, 5'8″ 160. (TE) John Hopkins, 2019, 6'4″ 230. Skyler Sandretzky, 2017, 5'10" 170.
GK does go 3, 4 or 5 wide at times, hence so many receivers list. The two main targets for Morris are Tre Mason and Eian Olmos. They are two of the better receivers nobody has heard of. Wheeler is a classic GK tight end, who is blocks first, but is a capable pass catcher. Twin brother Thomas Wheeler and Drew Hagen give depth that not many other teams have. Throw Kekoa into the mix at times to replace Olmos, but Kekoa really does his best work on defense.
Spartan receivers don't get ton of action, but always show up when needed. Tyson Rainwater is one of the more underrated receivers in the state, with size, good athleticism and really nice hands. Hopkins is a name we will be keeping an eye on. In this offense he does more blocking than route running, but with his size he could be a mismatch for GK defenders. Sandretzky and Zaragoza both have good hands and are speedsters that keep the defense honest.
Offensive Line
Graham-Kapowsin: (LT) Foster Sarell, 2017, 6'6″ 310. (LG) Ethan Porter, 2019, 6'2″ 285. (C) Ian Kurle, 2017, 6'0″ 235. (RG) Chris Sparks, 2019, 5'10" 235. (RT) Matt Shook, 2017, 6'4″ 270.
Sumner: (LT) Seth Carnahan, 2017, 6'7″ 255. (LG) Jacob Clark, 6'3″ 225. (C) Alex Beringer, 2019, 6'2″ 275. (RG) Austin Roth, 2018, 6'3″ 275. (RT) Chase Skuza, 2017, 6'6″ 290.
I don't know that I have ever seen a game in the history of this state with more beef up front. Football is won in the trenches, and these two teams have some of the biggest boys around.
LT Foster Sarell is the best high school lineman I have ever seen, and I have seen some good ones over the years. Sarell is the nation's #1 OL and potentially the #1 overall recruit. Matt Shook at RT is one of the most underrated linemen in the state, and currently holds an offer from Eastern Washington. While Ian Kurle doesn't possess the size of first two names on this list, he is true anchor of GK's offensive line from his center spot. Couple of young bucks you will want to keep an eye on at guard for the Eagles as Ethan Porter and Chris Sparks handle the duties, Porter is also a standout on the defensive line.
Seth Carnahan gets better every time I see him, and he is really starting to realize his potential at the spot, after years as a basketball player. Chase Skuza is under-the-radar after moving over from Rogers (Puyallup). Skuza is really learning to be more physical with the Spartans and could end up at a D1 school before all is said and done. If center Alex Beringer continues to grow, we could be talking D1 there as well. Austin Roth and Jacob Clark are classic guards for a Keith Ross coached football team, bringing toughness to the interior.
Defensive Line
Graham-Kapowsin: Jeremay Thesenvitz, 2017, 6'3″ 235. Ethan Porter, 2019, 6'2″ 285. Riley Hamilton, 2017, 6'2″ 240. Jordan Duvall, 2018, 6'4″ 285. Connor White-Shrum, 2018, 6'1″ 250.
Sumner: Logan Mayer, 2017, 6'0″ 245. Ryan Wilcox, 2017, 6'2″ 295. Torben Deese, 2018, 6'2′ 245. Kaden Schmidt, 2017, 6'1″ 235.
A good first step, strong hands and a relentless attack are why I think Ethan Porter has a chance to be one of the better DT's in his class. Thesenvitz plays a non-stop motor and can really get after the QB, could be a tough matchup with Sumner tries to throw. Duvall is a great compliment opposite of Thesenvitz and can really get after it. With three solid DT's in Porter, Hamilton and White-Shrum, they will need to be really tough against the run to allow the LB's to fly around and make plays.
Same goes for Sumner's DL, they need to be tough inside and big man Ryan Wilcox is a throwback of sorts at the nose. He is paired with Torben Deese inside and the duo has done a great job thus far at clogging the middle of the line of scrimmage. Outside the Spartans lack true length at DE, but Schmidt and Mayer are tough, and really fit well in the defensive scheme. Mayer does have 2 sacks and 7 TFL's on the young season.
Linebacker
Graham-Kapowsin: Brandon Becker, 2017, 5'9″ 210. Viliami Hansen, 2018, 5'10" 210. Beau Blowers, 2017, 6'2″ 215.
Sumner: Ian Pudney, 2017, 5'10" 190. Ben Wilson, 2018, 6'2″ 215. Tre Weed, 2018, 6'1″ 190. Jake Popejoy, 2017, 5'8″ 180.
You will be hard pressed to find two better sets of linebackers in the state. Both teams have guys that fly around with almost reckless abandon and really get after it.
Brandon Becker and Viliami Hansen are a bit undersized, but play much bigger. Both athletes fly to the ball and really solidify one of the best front sevens in the entire state. Blowers is a big, physical presence on the outside that is stout against the run and is good in coverage.
The Spartans run what amounts to a 4-4 defense, but it is different than most because they are so athletic at linebacker. Ben Wilson might be a power-5 recruit when all is said and done, and currently leads the Spartans in tackles. He holds offers Hawaii, Idaho and Montana State, and will likely garner a load of interest when his junior film gets out. Tre Weed is likely going to be a Safety at the next level, but excels at linebacker and leads Sumner with 2 INT's. Ian Pudney and Jake Popejoy are undersize, but are athletic in coverage and tough against the run.
Defensive Back
Graham-Kapowsin: Jeremiah Kekoa, 2018, 6'0″ 185. Kasai Childress, 2018, 5'11" 170. Drew Hagen, 2018, 5'7″ 170. Kobee Henson, 2017, 5'11" 180.
Sumner: Connor Wedington, 2017, 6'1″ 195. Tyson Rainwater, 2017, 6'2″ 180. Skyler Sandretzky, 2017, 5'1″ 170.
Kobee Henson is one of the better FS's in the state and is very much under-the-radar. He controls the secondary and will need to be heads up this week as the Spartans like to catch people sleeping. The Eagles are boast one of the best CB tandems in the state with Kekoa and Childress. Both can turn and run with any WR, and do a good job in press coverage. Drew Hagen is one of those players you hate to play against, but love on your team. He is small, but aggressive and very smart.
The reason I didn't say GK had the best CB tandem, is because Sumner fans have a great argument with Wedington and Rainwater. Wedington is a true shutdown corner, while Rainwater uses his length to create matchup problems for opposing receivers. Both will need to be on their best game this week. Skyler Sandretzky is one of the leading tacklers for the Spartans and has the full trust as the last line of defense.
Special Teams
Graham-Kapowsin: Collin Manners, 2018, 5'11" 140. Eian Olmos, 2017, 6'1″ 200.
Sumner: Nick Phillips, 2017, 5'10" 170.
Manners handles the place kicking duties, and does a fine job. He won't blow you away with a huge leg, but is accurate and reliable. Olmos is GK's punter, and has a surprisingly good leg. Nick Phillips handles all kicking for the Spartans, and is one of the more unknown kickers in the state. I saw him at the Northwest Stars Camp in February and was really impressed. Phillips is over a 40 average for his punts and gets kickoffs into the endzone.
Bottom Line
I am a firm believer that the team that wins the trenches, wins the game.
This is my kind of football game as both teams will likely look to establish the run and play tough defense. Field position is going to be huge and if either team can get a break in special teams, it could be the difference.
Eric Kurle (GK) and Keith Ross (Sumner) are two of the best coaches in the state, and have scrimmaged in the spring, so they are fairly familiar with each other, but I believe this is the first time they will have met in a real game.
I wont make a prediction on the game, but having Sumner ranked higher, I guess that means I am picking them this week.
All I really know is we should be looking at a great game.
.@seattletimes Top 5 matchup in 4A#UTRQuickMix preview.

#3 Sumner v. #4 Graham-Kapowsin
(1st ever meeting)
Both are 3-0. #AllTheyDoIsWin pic.twitter.com/Z0d9Z7DGyb

— UnderTheRadar NW (@UTRNorthwest) September 21, 2016