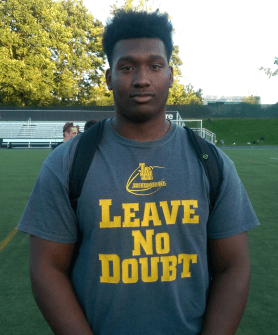 It was an exciting day on Tuesday for 2017 Lincoln (Tacoma, Wa.) OL Quazzel White as he received his first Pac 12 offer.
"I thought it was coming because they had wanted me to get them my first three games film, but it was still pretty exciting," a happy White told Northwest Elite Index. "Coach (Eric) Mele called me and said they had looked at my film and they loved it. He said they wanted to offer me a scholarship and that they felt like I fit into their scheme really well.
"They had been after me for a little while, but I wasn't able to make it out to their camp, so they said they wanted to see my first few games before they made any decisions, so when I finally got it for them, that's what sorta started the ball rolling."
A big bonus for the 6'4″, 305-pounder, should he choose Washington State, is that his team currently runs the Air Raid offense.
"It's the same system so I already know a lot of what they call and why they do different things the way they do them," White noted. "I mean, obviously I still have a lot to learn and stuff, but at least I understand the concepts and what they are trying to do."
In addition to his newest offer, White has been entertaining full rides from the likes of Fresno State, Hawaii, San Diego State, San Jose State, Utah State, Colorado State and Idaho among others.
"Of the schools talking to me that haven't offered yet, the main ones I have been hearing from are Arizona, Washington and Oregon State," White said. "I definitely want to get out and see schools before I decide, so there's still time. I am looking at San Diego State, Utah State and Colorado State as schools I definitely want to take official visits to and I'm still sorting through the rest of them."
White and his team are currently 2-1 with their only blemish coming against second-ranked O'Dea on the road to start the season.
"We run the Air Raid, but we started to figure out that we can run it pretty well out of that system, so we've really started to become a good team," White said. "We've really come together as a team and I feel like I am playing some of the best football of my life right now. I'm really having a lot of fun, but we still have a long way to go."
This Friday, White and the rest of the Abes will take on Lakes in a battle for South Sound supremacy in the 3A classification.