Click for Skyler Martin Highlights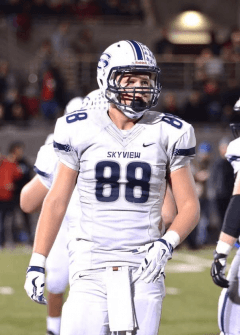 One of the more underrated players in the state this season appears to be 2017 Skyview (Vancouver) DL/TE Skyler Martin, but things are changing as more schools take notice of what he can do on and off the field.
"The main ones talking to me the most right now are Wyoming and Montana," Martin told Northwest Elite Index in a recent interview. "I talk to both of those schools pretty consistently, pretty much every week, and I get a lot of mail from them as well.
"I talk to Portland State a lot and I went to their first game of the season. I have also been talking to Northern Colorado and Oregon State a little bit too."
While those schools are picking up the interest with Martin, a handful of schools have also extended offers his way.
"The offers I have right now are from the University of Chicago, Columbia, Cornell and San Diego," Martin noted. "Chicago is a D-3 school, but they are a great academic institution, so they are definitely a school I am looking at and I am working on setting up a visit there for December.
"I am also planning visits to see Cornell and San Diego and those will most likely be in January, but I haven't really firmed up dates or anything at this point."
Most schools see Martin as an athlete, able to play on either side of the ball, and that's fine with him.
"I will play wherever I'm needed," Martin said. "I love playing defense, but offense is fun too, so really it's about where the coaches see me helping out the most and just doing what I can to help the team in any way possible."
As a defensive end this season, the 6'5″, 235-pounder has racked up 18 tackles, two sacks and two forced fumbles while on offense he's hauled in five receptions for 70 yards and a score while helping to lead his team to a 2-2 record.
The remaining schedule for Skyview is daunting, with games against rivals Camas and Union as well as a 4-0 Battleground squad, but Martin said he and his teammates wouldn't have it any other way.
"We love it," Martin said. "You can't be great unless you play great teams and that's what we signed up for. Our league is really tough and we always have tough teams to play, so it makes you better and makes you work that much harder to get to where you want to be.
We'll have more on Martin in the coming weeks and months as he continues to work through the recruiting process and we will update news on him as it happens.