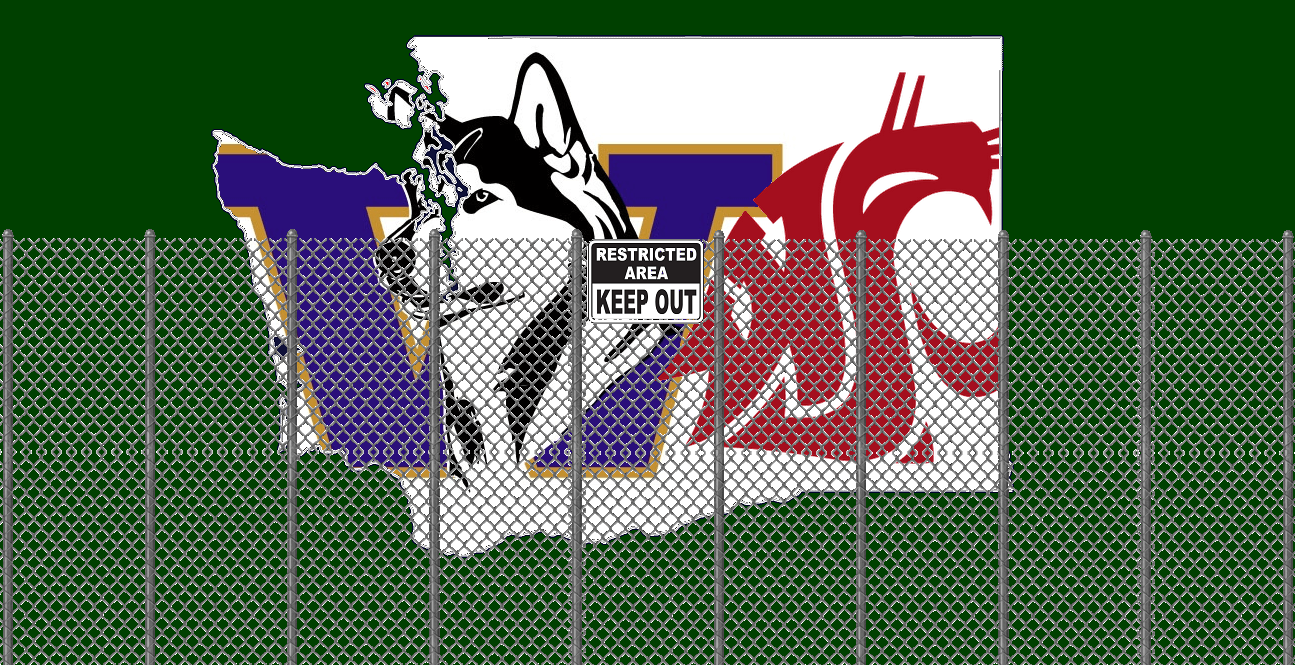 It's long been discussed that the two in-state FBS schools — Washington and Washington State — need to "put up a fence" around the state and keep the best local players home. Is that happening?
Currently, Washington State has four prospects committed to them from within the borders of the Evergreen State — Hazen (Renton) TE/DE Joe Tryon, River Ridge (Lacey) DE Kelle Sanders, Archbishop Murphy (Everett) OT Abraham Lucas and Richland OT Dontae Powell — while Washington also has four local players in the fold — Juanita (Kirkland) ATH Salvon Ahmed, Sumner ATH Connor Wedington, Tumwater TE/LB Cade Otton, Eastside Catholic TE Hunter Bryant.
Recently the Cougars have been much more aggressive in offering local players.
They currently have offers out to Graham Kapowsin OL Foster Sarell, Skyline (Sammamish) OL Henry Bainivalu, Pullman TE Ben Moos, Lincoln (Tacoma) OL Quazzel White, Edmonds-Woodway DL Ali Gaye and Peninsula (Gig Harbor) OL Cody Kanouse.
The Huskies, for their part, have offers out to Sarell and Bainivalu, but they have also been looking at Gaye, White, Kanouse and Stadium (Tacoma) OL John Blasco as possible late offers as well.
With that in mind, lets also look at their rosters and how many in-state players, scholarship or walk-on, are currently in their programs.
Washington State

Washington

DB Colton Teglovic (Eastlake '15)

DB Deion Singleton (Chiawana '13)

DB Justus Rodgers (Bellevue '16)

DB Josh Emmy (Skyview '15)

RB Killian Page (Marysville Pilchuck '15)

DB Parker Henry (Skyview '12)

LB Isaac Dotson (Bellevue Newport '13)

DB D'Jimon Jones (Federal Way '16)

WR Riley Krenz (Lake Stevens '16)

DB Dakota Sinchack (Oak Harbor '13)

P Tommy Park (Mount Vernon '16)

K Jack Crane (Skyline '16)

LS Kyle Celli (Bishop Blanchet '14)

K Erik Powell (Seton Catholic '13)

LB Peyton Pelluer (Skyline '13)

K Brett Schafer (Meadowdale '15)

LB Tristan Brock (Mount Vernon '15)

LB Anthony Castillo (Kent Meridian '15)

LB Nate Derider (Bellevue '13)

LB Suliasi Tamaivena (Juanita '12)

DL Taylor Comfort (Sultan '14)

OL Drew Norvell (Sehome '15)

OL Andre Dillard (Woodinville '14)

LB Alofagia Faalavaau (Foss '15)

LB Erik Glueck (Bellarmine Prep '16)

OL Cole Madison (Kennedy Catholic '13)

OL Chris Paz (Squalicum '15)

OL Josh Watson (Cascade '16)

DL Francis Haroon (Bellevue '16)

OL Mack Hopkins (Connell '14)

OL B.J. Salmonson (Nooksack Valley '12)

OL Cody O'Connell (Wenatchee '13)

WR John Thompson (Bethel '13)

WR Curtis Russell (Graham-Kapowsin '14)

K Mitchell Cox (Kentwood '14)

DB Austin Joyner (Marysville Pilchuck '15)

TE Jeff Lindquist (Mercer Island '12)

WR Chico McClatcher (Federal Way '15)

DL Benning Potoa'e (Lakes '15)

RB Myles Gaskin (O'Dea '15)

LB Jusstis Warren (Tacoma Lincoln '15)

LB Brandon Wellington (Eastside Catholic '16)

QB Blake Gregory (Skyline '16)

LB Amandre Williams (Tahoma '16)

DB Isaiah Gilchrist (Bellevue '16)

DB Taylor Rapp (Sehome '16)

WR Josh Rasmussen (Lake Stevens '15)

WR Drew Before (Shadle Park '12)

DB Budda Baker (Bellevue '14)

LB Sean Constantine (Bellevue '13)

DB Mason Stone (Montlake Terrace '13)

LB Bryce Sterk (Lynden '15)

DB Hayden Schuh (Skyview '12)

DB Sean Vergara (Selah '14)

RB Ralph Kinne (Shelton '13)

P/K Van Soderberg (Capital '16)

OL A.J. Kneip (Bellevue '16)

P Race Porter (O'Dea '16)

DB Ian Biddle (Woodinville '14)

K Cameron Van Winkle (Mount Si '13)

LS Luke Hutchison (O'Dea '14)

OL Jake Eldrenkamp (Bellevue '12)

DL Jared Pulu (Federal Way '15)

DL John Clark (Marysville Getchell '15)

OL Kaleb McGary (Fife '14)

OL Henry Roberts (Bellevue '15)

OL Duke Clinch (Woodinville '16)

OL Michael Kneip (Bellevue '12)

OL Trey Adams (Wenatchee '15)

LS Luke Lane (Bellevue '16)

WR Max Richmond (Bellevue '14)

TE David Ajamu (Shelton '13)

TE Drew Sample (Newport '14)

WR John Gardner (Inglemoor '14)

DL Shane Bowman (Bellevue '14)
Over the years many athletes have slipped through the cracks and the only other D1 program in the state, Eastern Washington, has feasted. The Eagle coaches have swooped in a grabbed many athletes we thought would end up in the FBS ranks.
Washington currently has 40 prospects on their roster from the state while Washington State has 36.
How things wrap up over the rest of the 2017 class and in the future will be an interesting things to watch and see how many local players wind up signing with the two big in-state football programs.