Click for Ben Wilson Highlights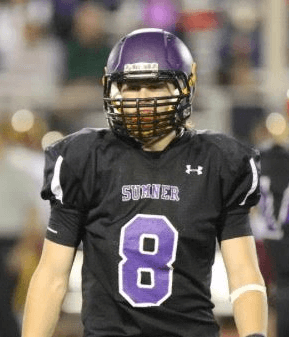 Even though he's widely consider to be one of the top defenders in the state, regardless of class, 2018 Sumner (Wa.) LB Ben Wilson had yet to haul in a Power 5 offer, but that all changed a few days ago when Arizona became the first of what will likely be many Pac 12 schools to offer.
"They called me and said they had been watching my film and they really liked it," Wilson told Northwest Elite Index. "I guess they showed it to the head coach (Rich Rodriguez) and he liked it too so they decided to offer me."
The offer from the Wildcats is the fourth for the talented linebacker, joining the ones he already had from the likes of Montana State, Idaho and Hawaii.
"It's definitely a big offer and I really appreciate them having the faith in me, but I want to take my time during the (recruiting) process," Wilson noted. "With Connor (Wedington), I've seen how crazy things can get, but he's been a huge help to me because he's been really smart about it. He just said I needed to enjoy it because this is the only time you get to go through it and I don't want to rush into anything."
In addition to the four schools that have offered, Wilson has also been hearing from a handful of other schools.
"Washington and Utah have been the main ones," Wilson said. "Recently, Washington State and Oregon have really started to show some interest and from outside of the region, Virginia, Nebraska and Purdue have been the other schools that have been contacting me."
Wilson, a 6'2″, 215-pounder, is one of top tacklers in the state. He uses his outstanding quickness and natural football instincts to diagnose plays and then make the tackle once he gets to the ball and he imparts at least some of his success to his head coach, Keith Ross, who was an All-American middle linebacker in college.
"It's been such a blessing having a coach like him there and being able to learn from him and all of his experience," Wilson said. "He expects a lot out of me and I really love to play the game the way he did because he always played with passion and that's how he coaches us too."
So far this season, Wilson hs totaled over 80 tackles in six games while helping to lead the Spartans to a 6-0 record including Friday's hard-fought 21-16 win over Olympia.
We'll have more on Wilson in the coming weeks and months and we will update news on him as it happens.