Click for Willie Patterson Highlights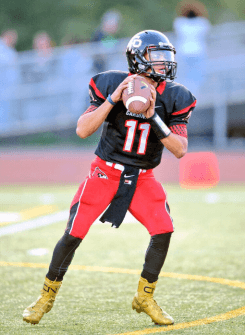 2017 Franklin Pierce (Tacoma, Wa.) ATH Willie Patterson has been flying under the recruiting radar so far, but with the numbers he's putting up, he should start to see things pick up on that front.
Lamar Jackson from Louisville is putting up some video-game type numbers at the collegiate level, but he's got nothing on Patterson who rarely leaves the field.
"I play pretty much everything," Patterson said with a chuckle. "The only time I come off the field is when we are punting or kicking.
"I play quarterback, running back and receiver on offense and on defense, I play corner or safety, depending on the team we are playing.
"I am also the kick and punter returner, but we sorta sub in guys on that one too, so I get to do returns, but sometimes I'm the blocker instead of the returner."
So far this season, Patterson has led the Cardinals to a 5-1 record while going 82 of 129 for 1,492 yards with 21 touchdowns and just three interceptions.
The senior is also leading his team with 941 yards and eight touchdowns on the ground.
On the defensive side of the ball, Patterson has totaled 20 tackles and an interception (in just three games) and as a returner, he's returned a punt and a kickoff for a touchdown.
"I just like to have the ball in my hands and to help my team in any way that I can," Patterson said. "As a quarterback, I see myself as a quarterback who can run and not just a guy who can run who happens to also play quarterback.
"Our coaches, especially our offensive coordinator, they prepare us really well and I think that's why I have been able to have the success I have. I also have a really good offensive line and I know that every time, even if things are messed up from the outset (of a play) that they have my back and will give me time to find someone or to make a play (with my legs)."
So, are Jackson comparison's fair? Probably not, but Patterson doesn't mind.
"It's funny because people had been calling me Willie Manziel after Johnny Manziel for a long time because I play football the same way he did," Patterson noted. "Now everyone is calling me Lamar Patterson or Willie Jackson after him because I sorta do some of the same things.
"He's an amazing player, so it's flattering that people think of me as the same type of player, but I just go out and play the way I play and I don't try to be like anyone else."
On the recruiting front, Patterson has no offers up to this point, but that could change once schools get a look at his senior film.
"I have been hearing a lot from Northern Colorado, Eastern Washington, Portland State, Central Washington and Idaho," Patterson said. "Most like me as an athlete where I could wind up at safety or receiver, but for the most part, all of them just like me as an athlete and say they will figure out a place for me once I get on campus."
At 5'9″ and weighing in at 175 pounds, Patterson is, pound-for-pound, one of the best players in not just the state of Washington, but also the Pacific Northwest. He's got great football instincts and he's pretty special with the ball in his hands.
Up until now, he's the best player you've never heard of, but with the way he's playing currently, many more people and coaches will know his name by the time December rolls around.
Franklin Pierce plays Foster this Friday night.