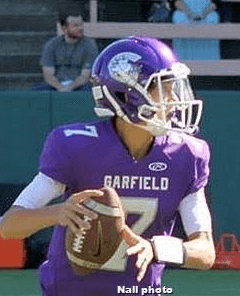 One of the top passers in the state, regardless of class, is 2018 Garfield (Seattle, Wa.) QB Max Nall and he's started to see things pick up on the recruiting front recently.
Nall has led the Bulldogs to a 7-0 record this season by completing nearly 64% of his passes for over 2,000 yards with 22 touchdowns and just three picks and he's shown his athleticism by rushing for over 300 yards and three more scores.
"I feel really comfortable running our offense," Nall told Northwest Elite Index. "Our coaches do a good job of showing us how they want us to run it, they come up with great ways of teaching us things and then they prepare of well for each game we play."
At 6'1″ and 165 pounds, Nall has a good frame and the arm-strength to make all of the throws.
"For me, the first thing I am is a passer," Nall said. "I would prefer to sit back in the pocket and make throws to my receivers in a good position so that they can make a play, but if things break down, I have no problem pulling it down and hurting defenses if they don't account for me.
"I just like to play ball. I want to help my team any way that I can and if that means I need to run, then I will do that, but I prefer to sit back and pass it and get the ball into the hands of our playmakers."
As far as targets to throw to, Nall has the luxury of three very solid receivers in senior Keith Edwards and juniors Mekhi Metcalf and Treshaun Harrison and he spent the summer throwing with them, working on their timing and getting comfortable with each other.
"We threw almost every day," Nall said. "My receivers and I worked hard on getting together and making sure we were as sharp as we could get before our season started.
"I went to the Northwest Elite Camp and the Rough Diamonds camp and felt like I did well there and that has only helped me this season."
On the recruiting front, things are just getting started for the junior signal-caller.
"So far it's mainly been Oregon State and a few small schools," Nall said. "Jamestown, Saint Olaf College (Minnesota) and College of the Redlands are the smaller schools so far.
"I've been invited to a few games to different schools too, but right now I'm just focusing on our season and I'll worry about recruiting once the season is over."
Garfield will take on Rainier Beach this Friday to determine who will face O'Dea in the Metro League Championship Game on October 28th.