Click for Tallon Yerbury Highlights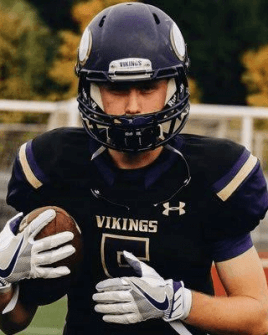 The Puyallup offense is one of the most prolific in the state this season and senior wideout Tallon Yerbury is one player who has had a big hand in their performance. The two-sport star told Northwest Elite Index recently he hoping to find options to play both football and baseball in college.
While helping to lead his team to a 4-3 record, Yerbury has put up some impressive numbers — 40 receptions for nearly 800 yards and 12 touchdowns.
At 6'2″ and 185 pounds, Yerbury is a big target for QB Nathaniel Holcomb and he said that is one of his biggest assets.
"I usually have a height advantage over most of the guys I go up against and I use good angles in my routes to get behind everyone," Yerbury told NEI recently. "I would say I'm more of a vertical threat receiver."
In addition to being a standout on the gridiron, Yerbury is also a stud on the diamond and most think he could be a star in college wit a glove on his hand, however, he's open to playing both if the opportunity arises.
"I was dead set on playing baseball in college, but I'm having a pretty good season this year in football so I'd be interested in both sports," Yerbury said. "I recently got an email from Pacific University in Oregon (about playing football), but that's about it right now.
"As far as baseball, the main one talking to me is the University of San Francisco."
With his outstanding size and the versatility to go up and get the ball or stretch the field with his underrated speed and route-running savvy, Yerbury is an intriguing prospect to keep an eye on. Sure, he might be a better baseball player, but he has the ability to play both in college and the school that does that could wind up getting a real steal out of the state of Washington.