Click for Talan Alfrey Highlights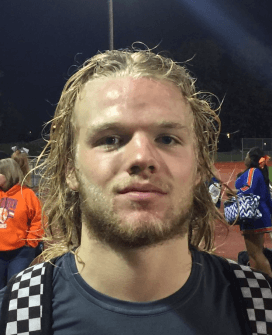 One of the most enjoyable parts of doing what we do is discovering a kid and one that we didn't know about until this season got underway was 2018 Auburn (Wa.) Mountainview ATH Talan Alfrey who is having a big junior season.
So far this season, Alfrey has played quarterback, receiver and safety for the Lions.
"I started the season as a wide receiver, but after our quarterback got hurt I started playing quarterback," Alfrey told Northwest Elite Index.
As the quarterback for his team, Alfrey has gone 42 of 81 for 584 yards with four touchdowns and two picks while also rushing for 361 yards and eight touchdowns on 95 carries.
Before he made the switch to under center, Alfrey had hauled in 17 receptions for 216 yards and two more scores and on defense he's totaled 60 tackles and an interception.
"I like both (offense and defense) pretty equally but I am probably a little more of an offensive guy," Alfrey noted. "It's mainly because I'm involved more with every play on offense either reading my key to hand it off, throw the ball or run the ball myself whereas on defense I read my keys and fit to my gap then if the play is my way I can make the play if not my teammates are in their gaps to make the plays."
With 15 months remaining before he can sign with a school, the recruiting process has just really gotten underway and there are a couple of schools that have shown him some interest.
"It's mainly just been mail, but I've heard from Washington and Oregon State so far," Alfrey said. "I was able to go to the UW/Stanford game a few weeks back and I've been invited to some Oregon State games, but I haven't been able to attend one yet."
In addition to his versatility on the football field, the 6'2″, 185-pounder is also an accomplished track athlete with PRs in the triple jump of 45'10, the long jump 21'4, the high jump 6'0 and an 11.49 in the 100 meters.
We'll have more on Alfrey in the months to come and the process continues to pick up for the talented athlete and we will update news on him as it happens.