Click for Matthew Money Highlights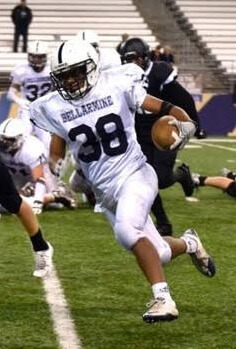 2017 Bellarmine Prep (Tacoma, Wa.) RB Matthew Money has had a solid senior season, but so far, only small schools have taken notice.
So far this season, while helping to lead his team to a 5-3 record, Money has racked up close to 1,100 yards and 16 scores, using his compact 5'10", 195 pound frame to batter defenses and balance the Lions' offensive attack.
"I'm a one-cut back who likes to get downhill," Money told Northwest Elite Index. "I've got enough speed to get to the edges, but I also have good vision and I don't go down with first hit, so I can run inside too."
Before he took the field this fall, Money, who rushed for over 600 yards and eight touchdowns as a junior, got to work on getting stronger and perfecting his craft.
"I wanted to lift and get stronger, so a lot of what I focused on was getting into the weight room and doing explosive movements," Money said. "I also worked a lot on my agility and my speed and also getting out of my cuts explosively so that I didn't have to slow down and I wanted to be more explosive in the open field."
This past summer, Money didn't attend any camps, so a lot of schools and coaches didn't get a chance to see him and, at least thus far, he's waiting to make a splash on the recruiting front.
"Right now, most of the schools that are talking to me are smaller schools," Money noted. "Central Washington is the main one talking to me, but they haven't offered yet."
While he's still waiting to find a school to play at, he isn't losing his focus on the task at hand, getting his team to the state playoffs.
"We have all come up playing together and we came into the season wanting to make the playoffs and seeing what happens after that," Money said. "I love playing with these guys and I think our team has really gelled pretty well."
With his size, natural running instincts and toughness, Money is a player more schools should start to take a look at before Signing Day in February. He's also an underrated receiver and a leader in the locker room.
Bellarmine Prep will wrap-up their regular season this Friday night when they take on Puyallup.