Click for Ben Gaoteote Highlights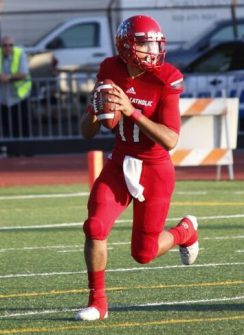 2017 Kennedy Catholic (Burien, Wa.) QB Ben Gaoteote has led his team to a 7-1 record, but up to this point, only a handful of schools are showing him some interest on the recruiting trail.
So far this season, Gaoteote has completed over 60% of his passes for 2,000 yards with 34 touchdowns and nine interceptions and he's rushed for close to 200 yards and another score.
"Last year I was running our Wing-T and now I'm running our spread offense," Gaoteote told Northwest Elite Index recently. "The Wing-T isn't that fun for a quarterback, but our offense is a blast to play in because all of the pressure is on the quarterback to make the right reads and to get the ball out quickly to our playmakers.
"Coach (Sheldon) Cross and the rest of the staff did a really good job of getting us ready for the season and showing us how to run the offense and we all feel really comfortable with what we're doing. We have to run it fast so we needed to pick it up fast and with all of the work we did together in the summer, it's really paid off for us."
While the 6'1″, 185-pounder is a good athlete who can do many things on the football field, recruiting has been a bit on the tepid side, but he's started to see things pick up at least a little bit with a few schools.
"Oregon State has been talking to me and I've heard a little bit from Washington, Oregon and Washington Sate too," Gaoteote said. "I've also been hearing from some smaller schools, but right now, none of them have offered me.
"Almost all of them have been talking to me as an athlete and that's what I'd like them to recruit me as. I would love to play quarterback, but honestly, I'm just a football player and I love to play the game so no matter where a school sees me, I don't really care, I just want to play."
This past summer, Gaoteote and his teammates took part in several 7-on-7 tournaments including the one at the University of Washington and the Steve Gervais camp in Olympia.
"I love to play football because my teammates are like my second family," Gaoteote said. "We're like brothers and we don't want to let each other down so we all worked really hard to get better and focus on the things we needed to in order to run this offense the way it needed to be run."
This Friday, Gaoteote will lead the Lancers into battle vs. Mt. Rainier in their regular season finale.