Click for Alex Bayuk Highlights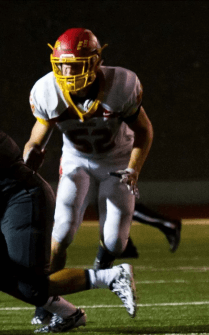 A player who is flying under-the-radar a bit on the recruiting front is 2017 Kamiakin (Kennewick, Wa.) LB Alex Bayuk, but he's putting up big numbers for the Braves and should start to see things pick up in the coming weeks and months.
"It's been a good season for me as a player and us as a team so far," Bayuk said recently. "I've mostly been playing middle linebacker, but sometimes my coaches like to all stunts and that puts me outside, so I fell like I can play both inside and outside."
At 6'4″ and 210 pounds, Bayuk was mainly an offensive player up until his junior season.
"Until I was a junior, I had mainly been an offensive linemen or a tight end," Bayuk noted. "They wanted to get me on the field more, so they put me at linebacker and on special teams and I think I did pretty well so they just left me on defense."
As a senior this year, while helping to lead his team to a 6-2 record, Bayuk has posted close to 100 tackles along with eight sacks and 15 tackles-for-loss.
"I feel like the biggest thing I do well is I communicate with my teammates," Bayuk said. "We use a lot of stunts and blitzes and sets and I feel like I am a leader out there because I need to get the signals out and make all of the calls and the checks.
"I also am that guy who does whatever he needs to do to be successful and I really like to rush the quarterback."
On the recruiting front, things have started to ramp up for the instinctive linebacker, but he's still waiting on that first offer.
"Currently, the schools I am talking to the most are Portland State and Montana State," Bayuk said. "I've actually been talking to a lot of Big Sky programs, but those are the main ones.
"I'm just focusing on my team and my season right now. Of course I'd love to get more interest from schools, but I can focus on that after my season."
With his size, natural football instincts and the ability to get after the quarterback, it's actually pretty surprising that Bayuk doesn't have an offer right now. He's definitely a player to keep an eye on as the playoffs begin and as we get closer to Signing Day the first week of February.
Kamiakin faces off with Southridge this Friday in the final week of the regular season.