Click for Micah Smith Highlights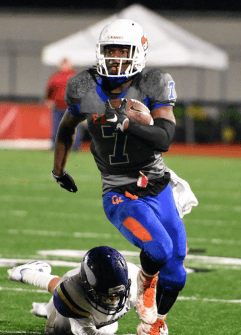 After missing his entire sophomore season, 2018 Graham (Wa.) Kapowsin RB Micah Smith knew he needed a standout junior campaign and that's exactly what we've seen out of the talented tailback and college coaches are starting to take notice as well.
So far this season, Smith has rushed for over 1,600 yards and 24 touchdowns while helping to lead his team to a 8-1 record.
"I'm definitely a power-back, but I think I have enough speed to hurt teams outside of the tackles on the edges," Smith told Northwest Elite Index. "I can run inside or outside. I can get the tough yards between the tackles or go outside and make guys miss in space."
With his productivity combined with his solidly put together 6'0″, 190-pound frame, Smith has started to attract the attention of college coaches.
"So far, it's mainly just been mail and coaches following me on Twitter," Smith said. "The main ones have been Washington State, Wyoming, Nebraska and Eastern Washington.
"I've also been up to visit Washington for the Stanford game and it was a great atmosphere."
With his size, vision, natural running instincts and underrated speed, Smith is definitely a name to remember as we begin the 2018 recruiting cycle.
Smith and his teammates finished up their regular season with a 63-13 win over Rogers, a game in which the junior tailback had just nine carries, but he still managed to rush for 163 yards and two scores.
We'll have more on Smith in the coming weeks and months and we will update news on him as it happens.
.@RootSports_NW Game of Week 4 — #GKvSumner @MSmith_07 –>36 car 233 yd
4th straight 200+ yd gm.

"LOOK AT HIM NOW"#UTRQuickMix pic.twitter.com/6ZOZNT7ufJ

— UnderTheRadar NW (@UTRNorthwest) September 25, 2016