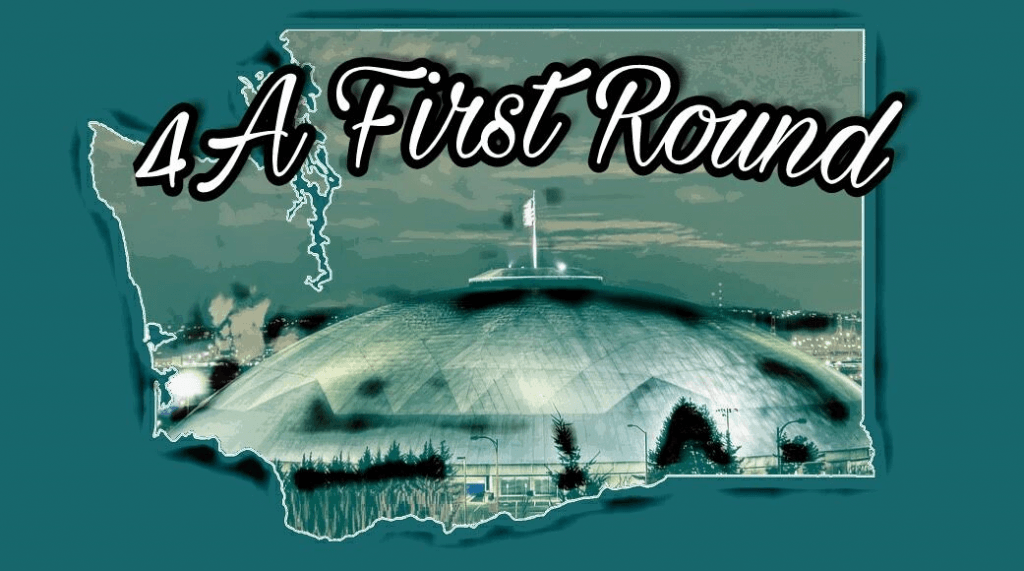 We are down to 16 teams and have some great first round matchups. Below you will find part one of a small preview with notes for each game in the upper-half of the bracket.
I have linked the stadium name to a page where you can see pictures of the stadium, usually it is my Washington State High School Football Stadiums page on Facebook. This will allow visiting fans to know what they are getting themselves into at the game. If I do not have pictures I will add into the game capsule a note about the stadium.
For each game I have also put my personal recommendation on where to eat if you are headed to the game. Afternoon games have both pre and post game spots. You will notice a burgers and pizza type theme because I like good food and when I go to games, I like to enjoy myself. None of this healthy eating on game day.
Monroe Bearcats at Sumner Spartans
Friday 7:00pm – Sunset Chevrolet Stadium
Monroe (9-1): Offense – 44.7/ppg. Defense – 12.7/ppg
Sumner (10-0): Offense – 43.2/ppg. Defense – 17.3/ppg
The Monroe Bearcats are really a three headed monster on offense. QB Zach Zimmerman leads the talented group and his favorite WR Isaiah Cole has had another fantastic season, but RB J.J. Jerome is the horse Monroe will need to ride. Jerome is a multi-purpose back that can beat you to the edge and run between the tackles. Monroe is tough up front with promising prospects Josh Jerome, Nathan Mead and Peyton McMahon on the inside. This is the type of game where the Monroe offense is going to have to score, as I think they may have a problem slowing down Sumner's offense.
It is no secret that Connor Wedington is a huge part of Sumner's 10-0 start to their season, but Wedington has been banged up with minor injuries most of the season. That hasn't stopped him from having a great season, but has helped the Spartans solidify other options. Junior ATH Tre Weed has stepped up and been nothing short of spectacular, QB Luke Ross has shown the ability to move the offense through the air, while WR Tyson Rainwater has emerged as a big time playmaker. There is a huge emphasis on winning in the trenches at Sumner and do a great job on either side of the ball. MLB Ben Wilson is around 150 tackles on the season, including a 21 solo tackle performance a few weeks back. Skyler Sandretzky anchors the secondary from his FS spot and really is that safety valve of the nasty Black Flag Defense.
Where to eat: Last week I would've told you Aversano's and I wouldn't have thought twice about it, that was until Sumner head coach Keith Ross told me to go to Main Street Dairy Freeze . You can't go wrong either way, you just gotta pick what you want. Aversano's is Italian and has great pizza, Dairy Freeze is your classic 'Mom & Pop' burger place with right about the best milkshake I have ever had. Dairy Freeze gets the slight edge because it is right by the school, while Aversano's is just outside walking distance.
Mariner Marauders at Woodinville Falcons
Friday 7:00pm – Pop Keeney Stadium
Mariner (7-3): Offense – 30.2/ppg. Defense – 28.7/ppg.
Woodinville (10-0): Offense – 33.4/ppg. Defense – 9.8/ppg.
Head coach Mark Stewart has done a tremendous job in a short time at Mariner. This will be a very tough task as the Woodinville defense is one of the best in the entire state, but the Marauders can play some defense too, holding a high powered Kennedy Catholic offense to just 6 points last wee. On offense, senior RB Darius Brown leads the rushing attack and is over 1,000 yards for the season. QB J.J. Walker is also over 1,000 yards passing and is into double digits in TD's. They don't throw a ton, but when they do, 6-foot-2 WR Anthony Allen is their top target. On defense you will want to keep an eye on LB's Cayden Herbert and Jordan Davis-Miller. They lead the team in tackles and sacks, as defensive coordinator Jeff Schmidt loves to bring pressure. Another name to watch is Anthany Smith, who missed most of the season to injury, but is back and I have been hearing great things.
Woodinville is built around their defense, but they can make some serious noise on offense as well. Junior QB Jaden Sheffey transferred in from a 1A school and has shown he can make plays on the biggest stage. Mack Minnehan is a do-everything type athlete for the Falcons. He is probably the best all-around athlete on the team and is a threat to score any time he touches the ball on offense. Nash Fouch is right there with Minnehan in terms of athleticism. Fouch is a big time playmaker on both sides of the ball at WR or S. One thing I love about Woodinville is their play in the trenches. They aren't all that big, but longtime OL coach Mike Monan does a tremendous job getting his guys ready to go.
Where to eat: Pop Keeney Stadium is in the heart of Bothell, and there are a lot of choices close to the stadium, but none I like more than the Ranch Drive-In . This is another 'Mom & Pop' burger place, but hands down my favorite. Double Bacon Ranch, crinkle friends and a shake. Now, one of the things they don't tell you is that you can have multiple flavors in your shake, so get creative. My favorite is a Marshmallow/Peanut Butter mix that was created by Bothell line coach Scott Enyeart. It is a beauty!
Graham-Kapowsin Eagles at Camas Papermakers
Friday 7:00pm – Doc Harris Stadium
Graham-Kapowsin (9-1): Offense – 50.9/ppg. Defense – 22.8/ppg.
Camas (10-0): Offense – 46.7/ppg. Defense – 12.6/ppg.
GK head coach Eric Kurle is one of my favorite coaches. He does a great job preparing his team and really has this team rolling. QB Dylan Morris was subpar in a loss earlier this year to Sumner, but has really taken off since that game. RB Micah Smith is a true workhorse type back and could be the state's top 2018 RB recruit. Speaking of highly recruited, OT Foster Sarell is the nation's top lineman, but he is just the LT of what is a tremendous OL with the likes of RT Matt Shook, C Ian Kurle, LG Ethan Tela-Porter and RG Chris Sparks. The Eagles use a plethora of WR's but are led by junior Tre Mason and senior Eian Olmos. Defensively GK has a couple of real thumpers in the middle with Brandon Becker and Viliami Hansen, and a secondary full of athleticism with Jeremiah Kekoa, Kobee Hanson and Kasai Childress.
The Camas Papermakers are an absolute machine. Year in and year out they find guys to step in and make plays. Their rushing attack is a two-headed monster with QB Jack Colletto and RB Michael Matthews combing for over 1,000 yards on the season, with each having 13 TD's. Colletto is also closing in on 2,000 yards passing with receivers Cooper McNatt, Drake Owen and Ryan Rushall leading the three-pronged air assault. Camas is tough up front with Dakota Napierkowski, Caleb Aldred, JT Tumanuvao, Marcus Gray and Jordan Howes. Matthews leads the defense from his MLB spot and is one of the best in the entire Northwest. DE Dylan Ingram should see a lot of Foster Sarell on Friday night. Ingram is one of the better DE's in the state. DB Sedric Ruiter is not a household name, but he should be, as he does a great job shutting down his side of the field.
One thing G-K fans will want to know is that Doc Harris Stadium is NOT at Camas High School. The address to Doc Harris is 1125 NE 22nd Ave, Camas, WA 98607. Parking can be a bit of a mess, so I suggest getting there early.
Where to eat: Sticking with the burger theme I will recommend Top Burger as the place to go. The inside is small and booths are scarce, so give yourself time. As a general rule of thumb, if they have a burger named after the restaurant, it is probably pretty good. That being said, get the Top Burger and make sure you try their fries. You'll thank me later.
Skyline Spartans at Eastlake Wolves
Friday 7:00pm – EHS Stadium
Skyline (8-2): Offense – 33.1/ppg. Defense – 16.4/ppg.
Eastlake (7-3): Offense – 36/ppg. Defense – 17.7/ppg.
Skyline is Kingco's #2 seed, while Eastlake is the #4. To say this game should be played at Skyline is the most obvious statement of all-time, but that is an argument for a different day and probably doesn't matter anyway because the WIAA doesn't really care. The Spartans won the earlier matchup between these two teams 17-14, and both teams were in the top three in virtually every offensive team stat this season. Both sides of the stadium do not have cover and neither side is all that big, so I would get there early.
Eastlake Senior QB Ben Howard does a fantastic job commanding the offense, and RB Daniel Bradley is a great option in the backfield. Junior WR Hank Pladson is one of the better underclass receivers in the state and led Kingco in receiving. I love the line play up front, especially the combo of Spencer Thompson and Eric Plummer on the left side.
Skyline Senior QB Drew Kistner has been outstanding this season keeping defenses on their toes with his ability to run and pass. RB Isaiah Shim has been one of the more consistent backs all season, while a combination of Luke Stiles, CJ Moore and Bradley Kim, give Kistner plenty of options. They are big and tough up front with Henry Bainivalu and Matthew Cindric control the tackle spots with Matt Oss continues to be one of the better centers in the state.
Where to eat: Not sure opposing fans need to know where to eat since the two schools are about a mile apart. If you are coming from outside the area to watch, I suggest hitting Triple XXX Rootbeer Drive-in . It is pretty expensive, but one of my favorite spots to hit. Another great spot is the Issaquah Brewhouse . You will have to scroll a little on that link. Last time there I had the 1/2 Kobe Burger… It was unbelievable. Melted in my mouth.