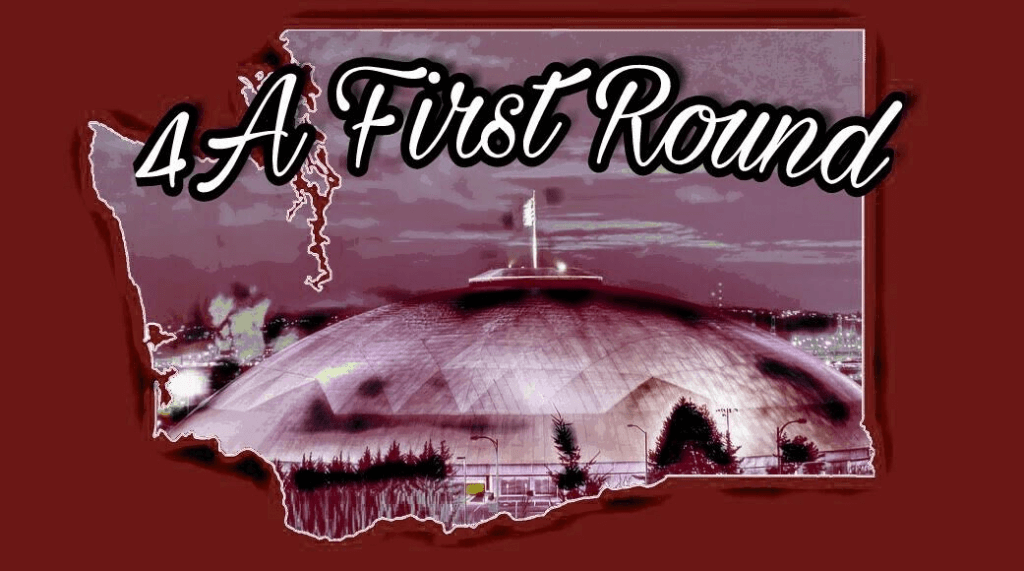 We are down to 16 teams and have some great first round matchups. Below you will find part two of a small preview with notes for each game in the bottom-half of the bracket. Click Here if you would like to see Part One with games in the upper-half.
I have linked the stadium name to a page where you can see pictures of the stadium, usually it is my Washington State High School Football Stadiums page on Facebook. This will allow visiting fans to know what they are getting themselves into at the game. If I do not have pictures I will add into the game capsule a note about the stadium.
For each game I have also put my personal recommendation on where to eat if you are headed to the game. Afternoon games have both pre and post game spots. You will notice a burgers and pizza type theme because I like good food and when I go to games, I like to enjoy myself. None of this healthy eating on game day.
Bellarmine Prep Lions at Lake Stevens Vikings
Saturday 7:00pm – LSHS Stadium
Bellarmine Prep (7-3): Offense – 29.3/ppg. Defense – 20.6/ppg.
Lake Stevens (10-0): Offense – 48.2/ppg. Defense – 8.5/ppg.
Bellarmine Prep likes to run establish the run early, and often. It is a bit of a two-headed monster in the backfield with seniors Matthew Money and Czarshay Thomas. Money is more of the feature back, while Thomas is a very nice compliment. Either way, both can be deadly if they get in a groove. At 6-foot-5 and 225 pounds, senior QB Christian Moore has all the physical tools to be a big time player, but at Bellarmine he has been asked to be more of a manager. On the outside Moor's top target is Christian Brown, while Chase Chandler pulls double duty as a LB and TE. The OL is anchored by center Josh Hanigan, who is one of the state's better underclassmen, and guard Junior Lotovaivai.
Lake Stevens has reloaded after graduating a ton of top athletes off last year's squad. They are still a throw-first type team, but they are showing more balance than just about any team in the state. Senior RB Blake May is over 1,300 yards on the season with 17 TD's. Junior QB Connor Bardue has attempted 214 passes this season, completing 71% of his passes for almost 2,600 yards and 39 TD's. Hunter Eckstrom leads Lake Stevens with 40 receptions, while Anthony Hutchinson leads in yards with 716, and Jake Rasmussen leads with 14 TD's. That is really hard to do. Defensively they get after it, and do not let up. Up front keep an eye on juniors Mathew Sevao and Zack Kylany. Sevao is one of the top tacklers, leads in sacks and tackles for a loss, while Kylany isn't far behind. Those two really set the tone up front with speed and physical play. Tristan Keith leads Lake Stevens in tackles from his OLB spot, while Austin Calvin isn't far behind at MLB.
Where to eat: There really aren't a ton of options up that way and I always suggest getting to the game early. Seating is limited on the visitor side and the home side, while huge, fills up fast. That being said, I am a big fan of Contos' Pizza & Pasta . Get whatever entrée you want, but if you don't get the Tiramisu for dessert, you will be doing yourself a terrible disservice.
Skyview Storm at Chiawana Riverhawks
Saturday 3:00pm – Edgar Brown Memorial Stadium
Skyview (7-3): Offense – 31.8/ppg. Defense – 23.5/ppg.
Chiawana (9-1): Offense – 39.2/ppg. Defense – 12.8/ppg.
Skyview is one of the more underrated teams in the state. Their three loses are to Camas, Eastside Catholic and O'Dea… Three of the state's best teams. QB Brody Barnum is a dual-threat with over 2,000 yards in the air and 500 more on the ground. Skyview was very balanced early in the season but have become more fond of the air attack as of late. The Storm have two of my favorite receivers in Jeremiah Wright and Tavis Pinkney. Wright is more of your prototypical big bodied possession receiver, while Pinkney is the speedster that will make you regret playing him man-to-man. If the Storm are to be successful on defense is all starts up front. Chyrius Duckett (6'4″ 315) is an absolute load and will be called on to clog the middle, forcing Chiawana outside. DT Hezekiah Po Ching (6'4″ 285) is out with an injury. DE Skyler Martin (Montana commit) is going to need to set the edge and force everything back inside. This is going to be a great matchup.
Steve Graf and his staff are one of the best in the state. When you play against them, you are playing against a team that is beyond well prepared. The key to this offense is senior RB Andrew Vargas, and that is no secret to anyone. Vargas is one of the state's top back and is over 2,500 rushing yards on the season, with 39 TD's. Everything starts up front, where Chiawana is big, physical and very well coached. The left side combo of Anthony Reisch and Josh Alvarez is one of the better in the state, with Ford Powers at center as the anchor. Joey Aikala at RT is an absolute load while RG Julian Benitez is mean and nasty. A name you will hear a lot is Caleb Weber, who is the lead blocker for Vargas and probably Chiawana's most important defensive player at MLB.
Where to eat: I am going to name two great places here, and two pizza places in the Sunnyside/Richland game capsule. All four places are close to the stadium, but will require driving after. First, if you want breakfast in the Tri-Cities, I suggest Uncle Sam's Saloon . I don't think it is kid friendly, but the Chicken Fried Steak is incredible and freakin' huge! If you need kid friendly or want a great place try Kimo's in Kennewick. Last time I was there I had some baja fish tacos that were absolutely amazing.
Bothell Cougars at Moses Lake Chiefs
Saturday 1:00pm – Lions Field
Bothell (8-2): Offense – 30.5/ppg. Defense – 20/ppg.
Moses Lake (5-4): Offense – 22.1/ppg. Defense – 21.7/ppg.
By now I am sure you have all heard of Bothell QB Jacob Sirmon. The junior gunslinger is committed to the University of Washington. Bothell RB Alex indelicato has shown tremendous versatility this season and is a threat to take it to the house on any play. Sirmon has two big time receivers on the outside with senior Daniel Johnson and Da'Vicious Wilson. Johnson is one of Kingco's leading receivers and also has two kickoff returns for a touchdown. Defensively the Cougars are led by Parker Chamberlin who is averaging around 10 tackles per game. Keep an eye on Peter Davis who was near the top in Sack and Tackles for a Loss. In the secondary I want to mention sophomore DB Darius Kubalanza as a name to watch. He has the makings of being a lockdown type corner in the long run and has a few INTs on the year.
Moses Lake is at their best when they get the running game going. RB Draven Nevarez is over 1,000 yards rushing and has 15 touchdowns. Led by seniors Auston Downs and Warren Catey, the big boys up front do a really good job paving the way. Also seniors, Joey Hassen and Braydon Lindholm are key cogs on the OL. The Chiefs are experience, tough and will need to run the ball to keep Bothell's offense off the field. On the defensive side they are led by junior MLB Payton Castro, who was a unanimous All-League selection. DB B.J. Mullin, another unanimous All-League pick, is going to have to be a rock in the secondary and make sure Bothell doesn't go over the top.
Where to eat: With the game time being what it is, I have two suggestions. For breakfast I love Bob's Café . It only gets a 2.5 on Yelp and frankly that is criminal. They have some of the best omelettes around. For dinner you will want to try Chico's Pizza Parlor . I have been told that Chico's could be a bit of a wait on a Saturday night, but it is well worth it.
Sunnyside Grizzlies at Richland Bombers
Friday 7:00pm – Neil F. Lampson Stadium
Sunnyside (7-2): Offense – 27.9/ppg. Defense – 15.4/ppg.
Richland (10-0): Offense – 38.3/ppg. Defense – 10.4/ppg.
Sunnyside is a program on the rise in the central part of the state. This year they surprised everyone in the Big-9 and turned it into a playoff berth. They are balanced offensively with nearly 2,000 yards on the ground and through the air. QB Nico Valle has attempted over 230 passes on the season and thrown just 5 INTS. Receivers Nate Maltos and Hugo Reyes lead the way and both are averaging around 15 yards per reception. On the ground they have some nice pieces with juniors Myles Alvarez and Carlos Ramirez, who were both near the top of the league rushing leaders. Sunnyside doesn't have a ton of size up front, but they are a tenacious group, led by senior Andrew Diddens and junior Jector Remirez. Defensively they will have to be tough up front and that will be on the shoulders of seniors Will Bowman and Alexis Valdez, while LB's Lorenzo Sanchez and Andrew Gallagher support from behind. The secondary is led by Fernando Cid-Reyes who will need to have a big day.
Richland is a powerful football team and really do a great job of imposing their will. Offensively they are led by senior QB Paxton Stevens, who has thrown the ball nearly 300 times on the season. Stevens is over 2,000 yards through the air with 22 TD's. Alex Chapman is one of the MCC's leading receivers and has 10 TD's on the season. On the ground Ben Stanfield leads with over 700 yards, while Parker McCray leads in TD's with 11. Where they really make their money is on the OL, senior LT Dontae Powell is committed to Wazzu, while sophomore RT Aric Davison has the makings of being a big time recruit when all is said and done. They have power, athleticism and depth along the OL that not many teams around the state have. The Richland defense is so talented and tough it is scary. They allow around 200 total yards per game and just keep coming in waves, especially in the secondary. Alex Champan and Adam Weissenfels tied for the MCC lead in INT's with 5, and Josh Mendoza was right behind with 4. They have allowed just over 1,100 total yards through the air on the season.
Where to eat: Earlier I mentioned to great spots to eat, now I am going to mention my two favorite pizza spots. The first is Shakey's Pizza in Pasco. Many of you westsiders probably remember Shakey's and yes, there are still a few around. The spot I REALLY like in the Tri-Cities is Hubby's . It is closer to Lampson, while Shakey's is probably closer to Edgar Brown. If you are going to Hubby's, try the Tri-City Supreme… Canadian Bacon, Sausage, Black Olives, Mushrooms, Pineapple…. OH YEAH!