Click for Keegan Stich Highlights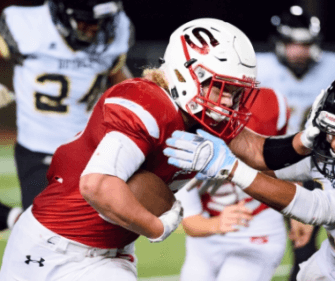 During the summer, we clued fans in on a relatively unknown prospect — 2018 Snohomish RB Keegan Stich — who could be one of the best runners in the state. All the junior did this fall was help lead his team to a 9-4 season and a berth in the post-season.
Stich had a big season on the ground for the Panthers, rushing for over 2,100 yards and 30 touchdowns, and he attributes it all to a team that has taken big steps into be competitive in the WESCO league.
"A big thing is I am getting a lot of touches, but the other thing is, we have really improved a lot as a team overall," Stich said humbly before his team lost their opening round playoff game to O'Dea this past weekend. "Our offensive line is playing really well and my quarterback, Brandon Jodock, is a really good runner too, so teams can't just focus on me.
"I think our team really came together this year and we're playing with each other and for each other and I really have had a fun season."
Snohomish ended their season with a 9-4 record and now they will head into the offseason with the goal improving and making it to the state tournament in 2017.
With his team goals in mind, Stich will also hit the camp and 7v7 circuit in the hopes of garnering the attention of college coaches.
"Right now, no schools have really been talking to me," Stich noted. "I think a lot of schools just need to see my film and I need to get out to some camps and show them what I can do, but as of right now, I really haven't thought about which camps I am going to hit.
"Last year I worked a lot on my speed and that really helped me this year so I'll keep focusing on that, but I also want to be more explosive. I also was able to drive the pile and get a lot of extra yards that way, so I'll just keep working on my strength and overall speed and continue to get better."
At 5'11" and weighing just over 190 pounds, Stich is a tough runner who has great vision and the quickness to hit the hole and the speed to run away from people in the open field. He's also a very good receiver out of the backfield and, with his football instincts, it could be argued that he would be a nice fit as a safety or outside linebacker should a team decide he's a better fit on defense.
Northwest Elite Index will continue to keep track of Stich in the coming months and we will update news on him as it happens.