Click for Daniel Bradley Highligts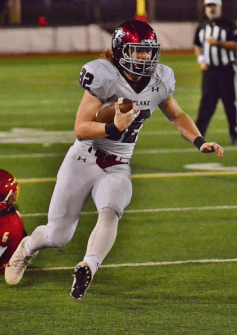 The Eastlake Wolves pulled off one of the bigger surprises of week ten with a 49-0 win over NPSL Cascade division champion Kentwood. Now, it wasn't a huge surprise to me that Eastlake won the game, because I know the Wolves are a very good team, but that by that margin over a very good Kentwood team was rather shocking.
Eastlake has plenty of impressive athletes, but one who really caught my eye was senior RB Daniel Bradley. At 6-foot-1 and 205 pounds, Bradley has the size to run between the tackles, and he showed plenty of speed to get outside and run away from defenders.
In a week one win over Lakes, Bradley broke the school record for rushing yards in a game with 264 yards, but in week two he would leave the game with an injury, that would cost him the month of the season.
"Being out during the regular season is a hard position to be in," Bradley told Northwest Elite Index. "I wished nothing more than to be on the field playing with my brothers, but I realized I could have another type of impact for the team off the field.
"Chris Nelson, the back that filled in the weeks I was out, I guided when I could in developing his own game and he did a great job."
Bradley is always quick to deflect credit. After speaking highly of his backup, he praises his offensive line for the work they do on a weekly basis.
"We have a special relationship as a unit," Bradley said. "I know exactly how they're going to approach blocking up front and knowing how they play allows me to never hesitate when following them through holes and letting them open up the field for me.
"They do a phenomenal job giving our QB a pocket to stay in comfortably, even going up against guys with 50-100 pounds on them."
One thing that really stands out in Bradley's game is his ability to read the play as it develops and almost find the hole before it opens. He shows nice vision, balance and a willingness to take a hit, but knows he can always get better.
"There are always parts of my game," Bradley noted. "I am constantly looking to improve and I can keep strengthening even more, listening to coaches, putting in work wherever and whenever I can to keep moving forward and in the right direction."
Hard work isn't limited to the field for Bradley. He currently sports a 3.49 GPA and scored a 28 on the ACT.
"Academics have always been an important part of athletics for me," Bradley said. "The two go hand in hand and you can't play without keeping grades in check. The academic part of playing college ball is a big part of what I look for as well as an elite program to participate in.
"Academically I've always pushed to be in the best position I could be in, taking UW level Calculus classes as a Junior as well as 4 years of a language in honors."
This week the Wolves face off against rival Skyline in the first round of the state tournament. We will keep you updated on Daniel and his teammates as they look to take the next step towards Tacoma.