Click for Caleb Perry Highlights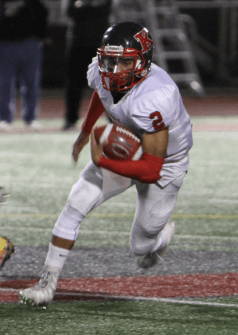 After a huge senior season, 2017 Kings (Seattle, Wa.) RB Caleb Perry is starting to pop up on recruiting radars and Northwest Elite Index got a chance to catch up with the talented tailback to get his take on things.
Perry posted 2,142 yards and 24 touchdowns and earned unanimous First Team All-Cascade League honors while also receiving First Team All-Cascade League honors as a safety after posting over 40 tackles with an interception and eight sacks.
"I feel like my season (went) really well," Perry told NEI in a recent interview. "I think we really came together as a team and played well and I feel like we did our best."
As an offensive player, Perry was used in different ways by the Knights, either out of the backfield or the slot.
"I am at my best when things are spread out and I can get into the open field and make guys miss," Perry said. "I mean, I am still good at running between the tackles and I can get the tough yards when we need to get them that way, but I ahve good speed and I feel like I can make plays from the slot or as a straight-up running back."
Recruiting has begun to pick up for Perry in the past few weeks with schools from the Big Sky showing him a ton of interest.
"Montana came to our playoff game to watch me and I feel like Portland State is really close to offering me," Perry noted. "Eastern (Washington) is also talking to me a lot, so I have a few schools that are after me and I feel like a couple could be close to offering right now."
Last summer, Perry hit the camp circuit and did very well, hauling in honors from two camps.
"At Arizona State's camp, I received running back MVP honors and I got MVP honors at the Oregon camp as well," Perry said. "I also went to USC's camp, Oregon State's camp, UCLA's camp and Washington's camp.
"ASU and Oregon both said I am on their recruiting boards, so hopefully that means they are looking at me, but so far, that's all I know."
Perry, who measures in at 5'9″ and weighs 175 pounds, is also a standout on the track, posting personal bests of 10.6 in the 100 and 21.82 in the 200.
With his speed, athleticism, quickness and natural football instincts, Perry is an emerging as a hot prospect in the the 2017 recruiting class.
We will continue to keep touch with Perry in the coming weeks and we will update news on him as it happens.