Click for Luke Ross Highlights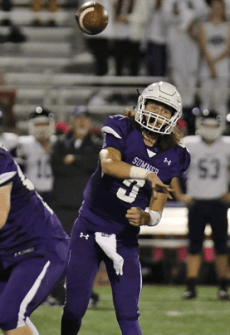 Sumner is 11-0 and the Spartans finished the season ranked number one in 4A and a big reason has been the play of junior QB Luke Ross.
"I'm definitely more of a pocket-passer, but I can run if I need to," Ross told Northwest Elite Index. "From the time I was a kid, my dad (Sumner head coach Keith Ross) really emphasized my footwork and getting my form and mechanics down."
As a junior this season, Ross has gone 98 of 161 for 1,722 yards with 26 touchdowns and five interceptions so far.
"We have had a great season and it's been a lot of fun and I'm hoping it continues," Ross said. "The competition is just getting harder and harder though, so we really have to be on our game and make sure we're taking advantage of our opportunities."
Last summer, Ross hit the Eastern Washington, Portland State and the Northwest Elite camps and he also hit the 7v7 camp circuit with his team.
"We did a ton of throwing together this offseason and I think that has really helped me out a lot," Ross said. "I also have some big-time playmakers around me — Tre (Weed), Connor (Wedington) and Tyson (Rainwater) — so they make my life pretty easy too and it was good to get my chemistry down with them.
"I also worked a lot on getting more torque on my throws with my body and this year I am making throws that I never had the confidence to make last year."
On the recruiting front, things have been a little on the slow side for Ross, but he knows it's still early.
"I actually have gotten a few letters from Washington and Washington State, but so far, that's about it," Ross noted. "I know there's still a lot of time so I'm not too worried about it right now.
"Honestly, I am more focused on my team and my season, so I'll worry about recruiting more once we finish our season."
At 6'2″, 175 pounds, Ross is an intriguing quarterback prospect who knows the game inside and out. He's a name recruitniks should remember in the coming months as a player that will definitely draw attention from college coaching staffs in the near future.
Ross will lead Sumner into battle against Woodinville at Pop Keeney Stadium later tonight in the quarterfinals of the state playoffs.