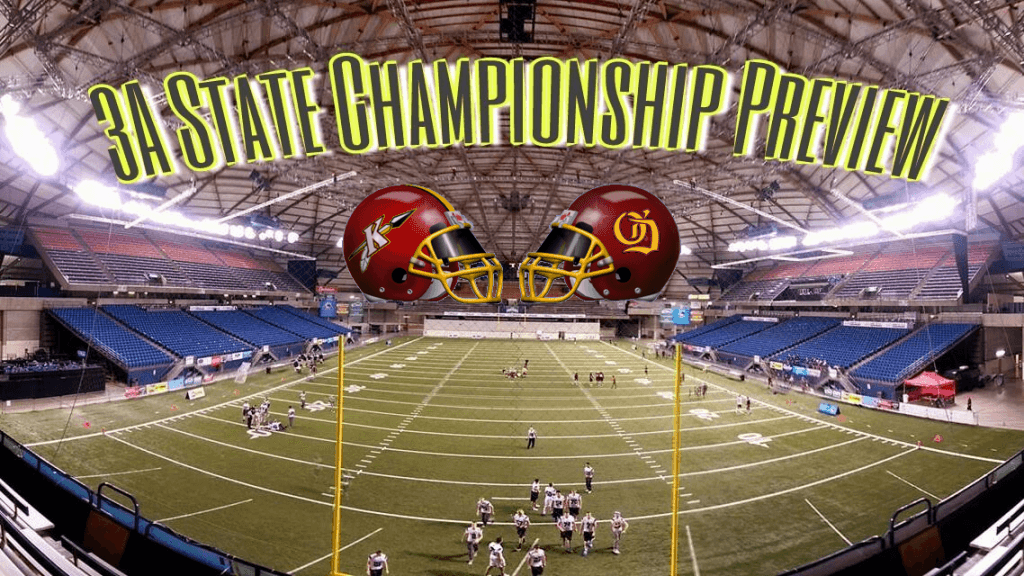 Kamiakin Braves vs O'Dea Fighting Irish
Friday, 7:30pm – Tacoma Dome – ROOT Sports
Championship week is here and I couldn't be more excited. This 3A matchup has the makings of being a very good game.
If you are headed down to the game, be prepared for traffic. I go to 50+ games a year and the traffic on I-5 headed into Tacoma is some of the worst.
Should you get down there early and need a place to grab a bite, I suggest heading to Freighthouse Square . They have a few different little places inside and it is about a two minute walk from the Tacoma Dome.
Kamiakin Braves (11-2)
Head Coach: Scott Biglin (8th Season)
Best Finish: Runner-up (2010, 1995)
Points Scored Per Game – 41.2; Points Allowed Per Game – 13.8
On Offense:
The Braves go with an up-tempo attack, and when I say up-tempo, I mean they like to be running plays about ever 12 seconds or so.
They are led by QB Zach Borisch. The senior is a true dual-threat athlete with a hard nosed mentality. Borisch has thrown for over 2,600 yards and 34 touchdowns this season, while also adding 580 yards and 9 touchdowns on the ground.
RB Jethro Questad joins Borisch in the backfield and has had a fantastic season. He's rushed for over 1,300 yards and 17 TD's, and also chipped in two return TD's.
Its a three headed attack for the Braves on the outside. Senior Isaiah Brimmer is a big target (6'5″ 175) and leads the way with 52 receptions for 729 yards and 12 TD's. Another senior is Darreon Moore, who is more of a speedster with 30 receptions for 546 yards and 8 TD's. The lone underclassmen in the group is Benson Smith, who comes in with 41 receptions for 550 yards and 7 TD's.
The offensive line is anchored by 6-foot-5, 275 pound, LT Wyatt Musser, who currently holds seven D1 scholarship offers, including the likes of Hawaii, Nevada and Colorado State.
On Defense:
Kamiakin is going to have to be tough up front to keep O'Dea off the scoreboard, and that really starts with senior linebacker Alex Bayuk. He was named to the first team All-MCC by the league's coaches and really sets the tone of the defense.
LB Dillon Crawford was an honorable mention for his work alongside Bayuk, and will need to have a big game to slow down the O'Dea rushing attack.
Last week DB Darreon Moore played on of his best games. He was lined up opposite Hunter Bryant most of the night, and did a fantastic job keeping the UW commit relatively quiet.
For the Braves to be truly successful they will need to create some havoc on the front line. Senior Hayden Larson did a good job last week against Eastside Catholic, and will need a repeat performance this week, as O'Dea likes to run the ball inside. Linemate Salvador Arias-Gonzalez impressed me last week with his never say die, mentality.
O'Dea Fighting Irish (13-0)
Head Coach: Monte Kohler (32nd year)
Best Finish: Champions (1995, 1994, 1991)
Points Scored Per Game – 37.6; Points Allowed Per Game – 13.1
On Offense:
O'Dea has been running the same offense for as long as I can remember, and it still works. It is almost like they could tell you the play and still succeed.
The Fighting Irish attack begins and ends with the runningback spot. They have had some tremendous backs over the years, and Jamyn Patu is proving to be next in line. The junior back is over 1,500 yards on the season and has 11 touchdowns.
Patu is just the beginning of the madness that is the O'Dea backfield, as they currently have four backs over 400 yards rushing, with three of them having double digit touchdowns. Hunter Franco has 822 yards and 12 touchdowns, followed by Connor Gregoire's 658 yards and 13 touchdowns, and finishing with Mark Tafia's 401 yards. Parker D'anna adds to the attack with 344 yards and 8 touchdowns.
Quarterback is a bit of a question mark for O'Dea as they have been hit by the injury bug all season. Starter Ben Beale was knocked out in week two against Shelton. Warren King took his spot and was fantastic, until suffering an injury two weeks ago. Beale finished that game, and started last week, but was injured on the third play of the game. Emonte Scott took over and guided the offense to a win, but there is uncertainty at that spot.
When O'Dea does throw the ball, they only have 757 total passing yards on the season, look for them to go to WR Quinton Lewis or TE Samuel Sanchez.
One thing you will always get at O'Dea is a very tough offensive line. The headline is 6-foot-5, 285 pound tackle, Griffin Korican. He is your prototypical O'Dea tackle with a mean streak and the size to play D1 ball. V.J. Malo is undersized (6'0″ 240), but plays with the nasty demeanor required to be a lineman at O'Dea.
On Defense:
Two names you will want to keep an eye on all night are LB's Tony Flor and Kyle Hollabaugh. Flor has an impressive 150 tackles and 8.5 sacks, while Hollabaugh boasts 93 tackles and 3.5 sacks. These two will be a vital part of the Fighting Irish attempt at stopping the Kamiakin rushing attack.
Fredrick Cooper plays a bit of a hybrid spot as a Safety/Linebacker. He is a tremendous all-around athlete and could be a key player with his abilities against both the run and pass.
The defensive backfield is solid with Shea Carstens (81 tackles), Connor Gregoire (58 tackles) and Hunter Franco (48 tackles) all doing their part to lockdown the opposing passing game.
Up front O'Dea has one of the top DT's in the state with big man Douglas Russell clogging the middle. Russell stands 6-foot-5, 270 pounds, and is an absolute load inside. You'll want to keep an eye on DE Spencer McCabe. He is quietly having a fantastic season with 66 tackles, 4 sacks and 11 tackles for a loss.
Bottom Line:
Monte Kohler is one of the all-time great coaches in the state and will be making his 8th appearance in the state finals. Defensive they will likely look to take away the run game, forcing Borisch and company to go to the air. They will look to grind the clock with a ball control offense.
Not many people expected Kamiakin to beat Eastside Catholic, but the Braves showed a lot of speed and a tougher mentality than you would expect. If they can get the offense going, look out!
This looks like a fantastic matchup on paper, let's hope it translates over to the field at 7:30 later tonight.