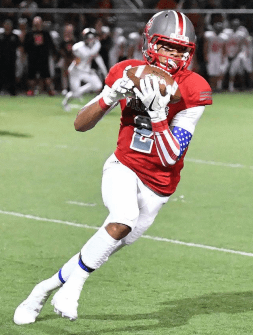 Mount Si (Snoqualmie, Wa.) WR Jesiah Irish is of the fastest players in the state and now that his junior season is completed, expect to see a lot of schools to be beating down his door over the next 15 months as he begins the recruiting process.
As a junior this past season, Irish hauled in over 34 passes for over 880 yards with 14 touchdowns and he also rushed for 187 yards and two more scores in eight games as the Wildcats did what they could to get the ball into his hands in different ways.
"I think I am a mix of both a possession guy and a guy who can take the top off of the defense," Irish told Northwest Elite Index. "I can make plays catching the ball short and making guys miss in space, but I can also run by the secondary and get deep and loosen things up for other receivers underneath."
Irish is such a good athlete that he started the season at quarterback, but eventually they figured things out in that respect and he was able to move out to receiver permanently.
"I'll do whatever my team needs me to do," Irish said. "We sorta figured it out pretty quickly with Cale (Millen) coming in and taking that position over and once we did that, we became pretty tough offensively. It was an easy transition for me once we decided to go that way."
At a little over 6'0″ tall and weighing in at 170 pounds, Irish already has pretty good size for a prep wideout and with his 4.3 speed, he's that elite playmaker who can make plays in almost every way possible. However, this offseason, his focus is going to be geared toward learning the intricacies of playing wideout and how to set up defensive backs better.
"I want to learn to run the route-tree better," Irish said. "I can run the route-tree, but I want to see different ways to run each route and how to set up the defensive backs more and also when to use my speed or when to throttle it back and maybe use my eyes or my body lean to set guys up.
"I want to be more precise in how I plant my feet and then explode out of my cuts. Stuff like that can really make a huge difference for a receiver."
As far as recruiting is concerned, things have been pretty steady for the talented wideout as he's been talking to several Pac 12 programs, but he's still waiting on his first offer.
"I've been talking to Washington a lot," Irish noted. "I went up to a couple of their games and I really like the offense they run.
"I've also talked to UCLA a little bit too and they seem pretty interested and Oregon, Oregon State and Washington State have all been after me."
Camp season is still about six months away, but Irish said he's planning to hit as many as possible, but he also has to consider his baseball schedule as well.
"I know it's going to be a busy time for me," Irish admitted. "I am a pitcher and a center fielder for our team, so I have that as a commitment, but I'll also hit some camps too.
"I want to get out to at least one Rivals camp and maybe an Under Armour camp as well. I'm also looking at a couple of Nike camps and when they are and I know I want to hit camps at Washington, Washington State and Eastern Washington and probably a couple of other college camps as well."
With his elite speed and improving skills as a route-runner, Irish is definitely a player with a ton of upside and he should start to see the interest really pick up once schools get a look at what he can do as a full-time wide receiver.
We will continue to keep tabs on Irish in the coming weeks and months and we will update news on him as it happens.