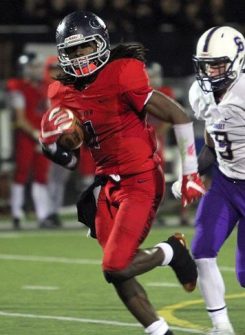 Over the past 18 months, one of the most impressive looking defensive backs in the region has been Westview (Portland, Or.) S Jason Rucker and things have begun to really pick up for the talented prospect in recent weeks.
So far, Rucker has offers from Central Washington, Western Oregon, Southern Oregon, Kentucky Christian, Rocky Mountain College, Lindenwood, Montana State-Northern and Hastings College and while each one of those is an offer he's considering, Rucker has seen some bigger schools start to come to the fore.
"Eastern Washington is really close to offering and so are Portland State, Northern Arizona and Weber State," Rucker told Northwest Elite Index recently. "Northern Colorado talked to me today and Oregon State and Utah State have both been in contact with me too.
"I am working on setting up visits with Western Oregon, Central Washington, Portland State and Eastern Washington right now, but I still need to firm those up."
As a senior this season, Rucker was a star on both sides of the ball, finishing with 1,539 all-purpose yards and 11 touchdowns while racking up 66 tackles, 11 pass breakups, two forced fumbles, four interceptions and two defensive touchdowns.
"I earned First Team All-Metro as a defensive back and Second Team All-Metro as a running back," Rucker noted. "My season went better than I thought it would. A lot of people thought we weren't going to be very good, but we beat Sherwood the first week of the season and they were a top five team in the state and we finished 8-3 on the season and I think we left the program in great shape for the younger guys to just build off of that and to keep getting better."
At nearly 6'2″ and weighing in at 186 pounds, Rucker has the perfect size to play free safety and then when you throw in his outstanding instincts and underrated speed, he covers a lot of ground and could be a great fit in almost any defense.
We'll have more on Rucker in the coming weeks as he nears his decision and we will report any breaking news as it happens.