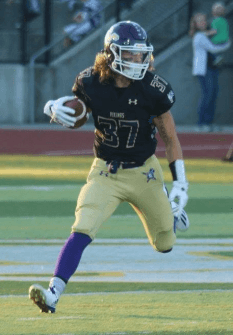 After four very productive seasons, 2017 Lake Stevens (Wa.) WR Hunter Eckstrom is ready for the next step and he updated Northwest Elite Index recently about where things stand on the recruiting front.
"I currently hold offers from a couple NAIA schools (Montana Tech and College of Idaho), but I have also been in contact with a handful of Big Sky schools like Montana, Portland State, Eastern Washington, Montana State and UC Davis," Eckstrom said. "I have also been hearing from some PAC 12 schools like Oregon State, Washington, Washington State and some Mountain West schools like Boise state, Utah State and San Diego State."
With all of that interest, Eckstrom says he feels several could be on the cusp of offering while some others are giving him a look as a preferred walk-on.
"The Big Sky schools are the ones I feel like that could offer, but with the bigger schools, the Pac 12 schools, I get the feeling that, at most, they would offer me a preferred walk-on," Eckstrom added.
As a senior this past season, Eckstrom grabbed a team-leading 47 receptions for 673 yards and 10 scores and he also filled in at tailback several times, running for 355 yards and six scores.
"Personally, I feel like my (senior) season was a big success," Eckstrom noted. "There was some minor setbacks along the way, but I had the most fun I've ever had on a field my senior year than anyone really other year and felt a lot more passion towards the game this year.
"As a team it blew my mind this season. We topped any expectation that anyone had for our team. All year we were the underdogs to other teams and we preached that every week at practice and that fueled our fire and after last year vs. Skyline, we lost all the leaders like Jacob Eason, Riley Krenz and Andrew Grimes and I thought that this year was going to lack a lot of leadership but we had a lot of kids step up and take on those roles, so all that being said, I would say as a team and individually it was a huge success."
At 6'0″, 185, Eckstrom has the ideal size to be a slot receiver at the next level and then when you throw in his natural leadership skills, his outstanding hands and his understanding of defenses, he could be deadly in the right offense.
We'll continue keeping tabs on Eckstrom in the coming weeks and we will update news on him as it happens.