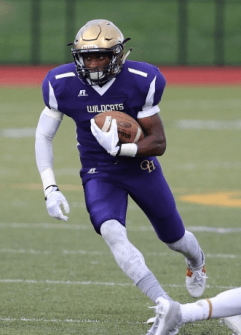 One of the breakout stars of the football season that just ended was Oak Harbor's Taeson Hardin and now that his junior season has been put to bed, he's focused on the future.
"I had a good season, but I feel like there is a still a lot more to do," Hardin told Northwest Elite Index recently. "I played both ways, but as the season went along, I was just playing one side because struggling with some (minor) injuries and my coaches said they needed me on offense more, so I just focused on one side of the ball."
Hardin missed the final two games of the season with a high ankle sprain, but he still finished with 680 yards and seven touchdowns on just 67 carries while posting 20 tackles, four pass breakups and one interception.
"I'm definitely a speed guy," Hardin said. "My forty (yard dash) time isn't anything special, it's probably a 4.7, but I feel like I play a lot faster than that. I feel like I have the speed to get outside and get into space and then I have the speed to run away from guys.
"I love playing both sides, but if I had to choose one side, I'd choose defense because I always prefer hitting to being hit. You can also be more physical and I like that as well."
This offseason, Hardin has specific areas of improvement in mind.
"I definitely want to work on my conditioning more," Hardin said. "Toward the end of the season, my coaches had me playing just one side of the ball and some of that had to do with some nagging injuries, but it also had to do with my conditioning because I sorta wore down a little bit, so this offseason, I'll be conditioning hard and making sure I can stay on the field all game all season.
"I'm also planning to hit a lot of school camps — Washington, Oregon, Montana, Washington State maybe — and maybe a Nike camp is possible too. I really just have to talk to my parents about working out a schedule and making sure I'm going to the right ones."
As far as recruiting is concerned, Hardin said he's just now starting to hear from schools but he hopes once schools get a look at what he was able to do this fall, that more schools start to show him interest.
"So far, it's really just been the University of Jamestown (a small school in North Dakota) sending me stuff, but I think now that my junior film is out, I hope more schools start to see what I can do and what I can offer," Hardin said.
At 5'10" and 171 pounds, Hardin is a solidly-built prospect who appears able to play on either side of the ball. He's definitely a player to keep an eye on over the next year and he should see recruiting start to pick up and hit full stride once he hits the camp circuit this spring and summer.
We'll have more on Hardin in the coming weeks and months and we will update news on him as it happens.