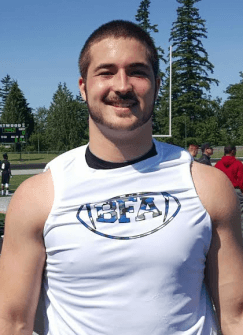 It's been a while since we updated news on 2017 Pullman (Wa.) TE Ben Moos and things have definitely started to come into focus for the talented two-way athlete.
"Right now, I'm focusing on Utah, Syracuse and Washington State," Moos told Northwest Elite Index recently. "Syracuse has picked things up with me pretty recently. They stopped by my school and met with me and then they set up a visit with me to come out there on January 27th.
"I'm visiting Utah this coming weekend and I'm visiting Washington State the weekend of January 20th.
"I'll take those three visits and then I will sit down with my family and make my decision."
While he's a standout as a tight end on offense, there is some thought he could wind up playing defense once he gets to college.
"Washington State is the school recruiting me as an athlete, but both Utah and Syracuse like me as a tight end," Moos noted.
As a senior this past season, Moos totaled 52 receptions for 604 yards seven touchdowns while helping to lead his team to an 8-3 record and their first post-season berth in four years.
"I'd never played in a playoff game, so that was pretty exciting," Moos said. "As a senior class, we sorta made it our goal to get back before we left and that's what we did and I think we have helped to build this back into being a good program and one that could go to the playoffs on a regular basis."
We'll have more from Moos in the coming weeks as he nears making his decision and we will update news on him as it happens.