Click for Joe Tryon Highlights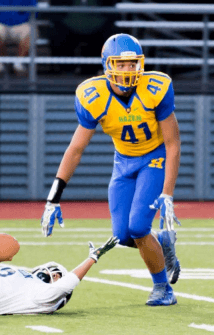 One of the surprise prospects that burst onto the scene last spring was Hazen (Renton, Wa.) DL Joe Tryon and he's nearing the end of his quest to find a home to play college football.
Tryon has a handful of offers, but he told Northwest Elite Index recently that he's narrowed things down to just three finalists.
"I'm basically looking at Washington State, Utah and Oregon right now," Tryon said. "I am really looking forward to talking to the new coach (Willie Taggart) down at Oregon and to see what he's all about, but they are a program I really like right now.
"I visited Utah a couple of weeks ago and I am visiting Washington State on January 13th and the plan is for me to visit Oregon on the 20th (of January)."
Tryon committed to Washington State back in the summer and he said he's still committed to the Cougars, but that won't stop him from visiting other schools.
"I'm still committed, but I'm still looking at other schools," Tryon noted.
As a senior this past season, Tryon was a star on both sides of the ball, finishing with 40 tackles, six tackles-for-loss, a sack and an interception he took back for a touchdown while also hauling in 31 catches for 650 yards with 11 touchdowns as a tight end on the offensive side of the ball.
"I felt I played pretty good," Tryon said. "I really enjoyed my senior season because everyone looked up to me and I had the ability to take over games.
"Teams seemed to game plan away from me. They either double-teamed me or ran to the other side, so I had to make plays when I got the opportunity."
At 6'6″ and 235 pounds, Tryon is a spectacular looking athlete with long levers and his quickness is unquestioned. He has the ability to dominate at the next level and could be a force on either side of the ball although we though his highest upside is on defense as a pass-rusher.
NEI will have more on Tryon in the coming weeks as he gets closer to signing with a school and we will update news on him as it happens.