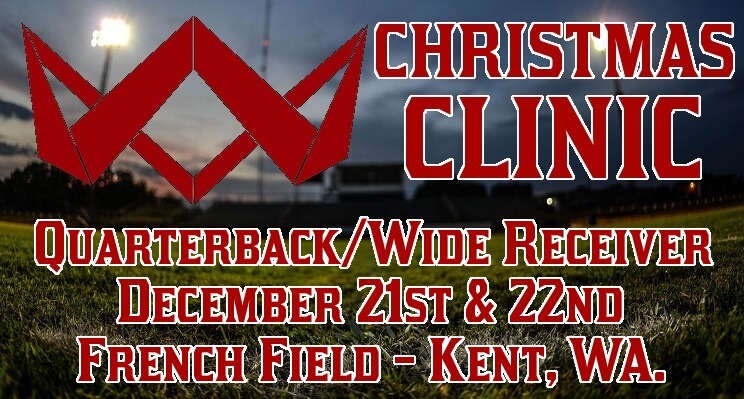 Recently we told you about Jake Heaps and the Empire QB Academy, now we bring you news about their first camp.
"I am excited to announce our inaugural event," Heaps told Northwest Elite Index. "Our Christmas Clinic will be over the course of two days at French Field in Kent. Each day will be three hours of intense workouts for both quarterbacks and wide receivers.
"It is a great opportunity to compete against some of the top talent in the state, get elite coaching, a great workout, and technical training before the holidays."
This event will work on all aspects of being a quarterback. From refining proper throwing mechanics and footwork, to game-like situational drills to help athletes compete in an up-tempo environment.
The Christmas Clinic isn't just for quarterbacks. Wide receivers will have a chance to train with the Northwest's top WR coach, Mike Bush.
"If we were going to add receivers to the event, I wanted to bring in the best coaches at that position," Heaps said. "We were able to do just that with Mike Bush as head receiver coach. Mike is one of the best receiver coaches I have ever worked with. He is widely respected and known for not only the knowledge he has for the position but for also being an all around great person.
"Mike represents what the Empire Quarterback Academy is all about, and I am excited to have him on board for this event."
To keep athlete-to-coach ratio down, Heaps went to his NFL connections to help add experience and passion to the wide receiver coaching staff.
"We are also very excited to have former Seattle Seahawk WR Deshon Foxx on board," Heaps noted. "Deshon knows what it takes to play the position at the highest level and is fired up to share his knowledge.
"He really impressed me with our time together with the Seahawks and I know that every receiver that works with him is going to learn a lot and have fun doing it."
This event looks to be a great kickoff to the off-season and an exciting start for the Empire QB Academy.
For more information on the event visit – EmpireQBAcademy.com – Quaterback Information – Wide Receiver Information
Excited to announce our two day Christmas Clinic for QBs and WRs. Come grind with us before the holidays! https://t.co/PSd96Hou6s pic.twitter.com/khEtY85TdV

— Empire QB Academy (@EmpireQBAcademy) December 9, 2016