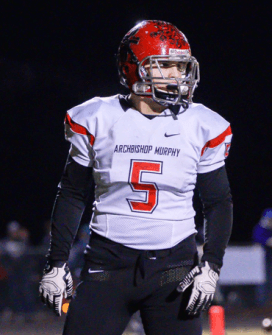 Heading into the 2016 season, we already knew that Archbishop Murphy (Everett, Wa.) LB Ben Hines was one of the top junior defenders in the state and all he did was go out and have a big season while helping lead the Wildcats to the state 2A title.
Archbishop Murphy finished 14-0 on the season, but five of their wins came via forfeit, so Hines and his teammates had just nine games to post stats. In this nine games, the junior linebacker posted a team-high 100 tackles to go along with 11 tackles-for-loss and four forced fumbles and he was named the Defensive MVP of the Cascade League.
"I thought I played pretty well," Hines told Northwest Elite Index. "Last offseason, I worked on a lot of things — my speed, my agility, getting quicker feet and hips — and that helped me to have a good season.
"I have good instincts and feel like I'm a pretty sure tackler. I like playing inside at the middle linebacker spot because it's in the middle of everything and I feel like I can make the reads and then go make the play from my spot there."
At just over six-feet tall and weighing in at 225 pounds, Hines already has the size necessary to be a stud at the next level and then when you put on his highlight tape, you see the instincts and football speed he plays with and that has led several schools making early contact.
"So far, I've been getting letters from Arizona, San Diego State and Eastern Washington and I have actually talked with Montana State, so there have been a few a schools looking at me," Hines noted. "I'm definitely going to get out to a lot of camps, but I'm still planning them out.
"The ones I know I'd like to hit are Arizona, Washington, Washington State and San Diego State's camps and later this month I'm going to take part in the NEC All-American Game," Hines said. "I just love playing football and I always am looking to improve, so all of those should help me do that while also getting my name out there a little bit more."
With his size, speed and instincts, Hines is a player who should garner a lot of attention from schools during the spring and summer and we feel like he will be one of the more coveted prospects in the state now that the 2018 recruiting cycle is underway.
We'll have more on Hines in the coming weeks and months and we will update news on him as it happens.