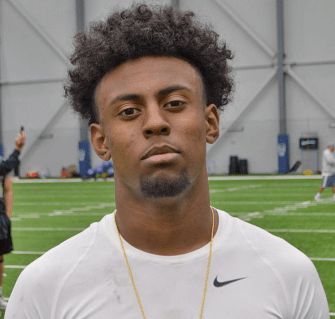 After a successful senior season, Lakes (Lakewood, Wa.) DE/LB Xavier Banner has turned his attention to where he will continue his football career and he updated Northwest Elite Index recently on where things stand on the recruiting front.
"It's started to pick up for me, but I'm still just being patient," Banner said. "I have some NAIA offers right now and I'm going to start looking at taking some visits to those schools, but things have been picking up with some Big Sky schools, mainly Eastern Washington, Portland State and Montana, so I am hopeful that I can get some offers from programs like that before Signing Day."
In fact, Banner is headed to Cheney to watch the Eagles take on Youngstown State.
"I got invited by the coaches over there to come check out the game and to meet with them afterwards," Banner noted. "They play a great brand of football there and they have been a great team over the past several years.
"Portland State came in and talked to me and Montana has been talking to my coaches too, so I really am excited to see how things sorta come out, but I am just having to be patient because it's not my call on whether I get an offer or not."
As a senior this season, Banner finished with 73 tackles and led his team with 17 tackles-for-loss and 10 sacks, but when we asked about how his final season of high school football went, it wasn't his individual effort he focused on.
"As a team, I think we started out slow," Banner said. "We started 1-3 and we really had to look at how we were playing and I think we all just had to start focusing on what mattered, our team and how we played and controlling our effort and focus, and not worrying about the stuff we couldn't control and also not worrying about outside factors.
"Once we started doing that, we really started to play well and we finished the season 4-1 and we made the playoffs and actually won two games and that just moves the program forward and the younger guys now can say 'we did this before and we're going to get it done even better' in future seasons."
At 6'0″, 210, Banner isn't the biggest prospect out there, but he's got great football instincts, an incredibly quick first step and the natural ability to rush the quarterback.
We will continue to keep tabs on Banner and his progress over the next six weeks and we will update news on him as it happens.