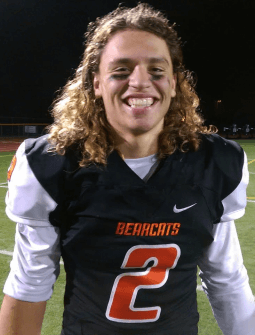 It's been an adventurous fall for Monroe (Wa.) RB J.J. Jerome. As one of the top rushers in the state the past couple of years, the talented prospect has started to set up some official visits.
"I have a visit scheduled to Central Washington on the first weekend of January (January 6th) and I'm visiting Dartmouth either the second or third weekend of the month and I'll visit Montana State on January 27th," Jerome told Northwest Elite Index. "Central told me they like me on either side of the ball, so it's really what I prefer to play. Montana State said they see me as a linebacker and Dartmouth likes me as a tailback, so it's sorta all over the place where the schools that are recruiting me see me playing."
Even though Jerome leaves the prep ranks with experience on both sides of the ball, offense is where he made his biggest impact with the Bearcats, finishing his senior season with 2,050 yards and 27 scores while also hauling in 30 receptions for 335 yards and four scores.
"I have always been the most comfortable with the ball in my hands," Jerome said. "I've always had the knack for making plays and it's something I see myself as, but I will play linebacker too. I just love to play football so wherever a school sees me fitting in and playing the best, that's fine with me."
Up until the past four or five years, the Monroe football program had really struggled to make headway in WESCO 4A, but after a successful 2015 season, head coach Michael Bumpus had his team focused and ready for a big run to the state playoffs and they finished the regular season 8-1 before winning their first round game with Auburn Riverside and then losing to top-ranked Sumner in the round of 16.
"We had a good season overall," Jerome said. "Obviously we wanted to win more and finished with a title, but I think we've built something pretty special at Monroe and coach Bumpus has done a great job of getting us all ready to represent our school and to also develop as players and people.
"Before, I sorta cared about my stats, but as I got older, I didn't care about my stats anymore and it was more about the team and making sure I helped my team anyway that I could."
At 6'0″, 210 pounds, Jerome has the size and instincts to be effective on either side of the ball. However, with his nimble feet, outstanding vision and soft hands, he could be a real threat with the ball in his hands at the next level.
We'll have more on Jerome in the coming weeks and we will update news on him as he nears his decision in early February.