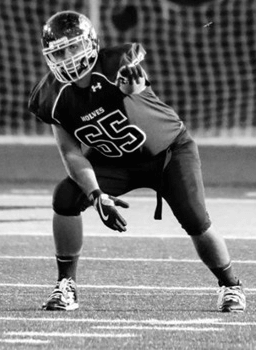 An in-state 2018 prospect starting to garner the attention of college coaches is Eastlake (Sammamish, Wa.) OL Spencer Thompson and he recently updated Northwest Elite Index on where things stand on the recruiting front.
"So far, the main schools that have talked to me this year are Utah State, BYU and Boise State," Thompson told NEI. "Utah State said they see me as a center, but BYU likes me on defense, either as a nose tackle or possibly playing some defensive end, so it's sorta a range of positions where schools see me and honestly, I don't really care, I just want to get on the field and play."
As a sophomore in 2015, Thompson held down the right tackle spot along the Wolves' offensive line, but as a junior this past season, he made the switch to the left side and he dominated, earning First Team All-Kingco.
"I think the biggest thing with me, the thing I take the most pride in, is my ability to finish my blocks," Thompson noted. "I love to put guys on their backs and just punish the guys in front of me. That's the most fun thing we do as linemen.
"I also felt like I improved a lot as a pass-blocker, so there were a lot of things I could take away from this season, but the biggest thing for me is I want to get better with my pad-level. I think I can get lower and really drive guys. If you play too high as an offensive linemen, you can get put off balance or guys can get under you and drive you back, so I really feel like if I get my pad-level to where it needs to be on a more consistent basis, that will really help me as a senior this fall and as I continue to play."
Last summer, Thompson hit the camp circuit and he got on a lot of radars and this season he's hoping to hit even more camps to show coaches what he can do.
"I went to the Rough Diamonds and Northwest Stars camps and those were a lot of fun because there were some really good players to face off with and work against and the coaching was really great too," Thompson said. "I also went to Washington's Dirt Dawgs camp and that was a lot of fun. They had some big-time guys there, some really talented out-of-state guys, so it was good to work with them and get their coaching and feedback as well.
"This summer I am planning a lot of camps. Eastern (Washington), Boise State, Montana and BYU are schools that I am really planning on visiting and taking part in their camps, but I am also hoping to make it out to Washington's camp and Washington State's camp and hopefully Oregon State's camp too."
At nearly 6'2″ and weighing in at just under 270 pounds, Thompson is a good looking prospect who could fit on either side of the ball, but when you watch his film, he looks like a better fit on offense where he can use his superior technique and high Football I.Q.
We'll have more on Thompson in the coming weeks and months and we will update news on him as it happens.