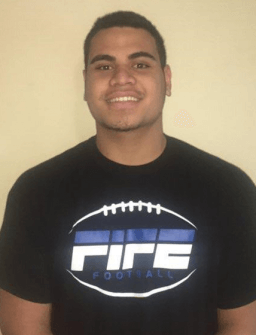 One of the most physically impressive athletes in the 2018 class in the state of Washington is Fife OL/DL M.J. Ale and he's already got plenty of schools eyeing his talents at this early stage of the recruiting cycle.
"I already have an offer from Utah and I've been talking to a lot of other schools," Ale told Northwest Elite Index. "The main schools talking to me right now are Notre Dame, they've been talking to me a lot recently, Washington and UCLA.
"I've also been hearing from Florida State, Washington State and Oregon State and Stanford has really started to talk to me pretty recently."
As a junior this past season, while starting on both sides of the line, the 6'5″, 312-pounder was named First Team All-SPSL as both an offensive and defensive lineman and he was also named the Defensive Player of the Year and Defensive Linemen of the Year after posting 44 tackles, five tackles-for-loss and one sack.
"This past season was my first playing both ways," Ale said. "I had only really focused on playing defense for my first year of playing football (2015), but this year, my coaches wanted to give me the chance to play both ways, so I started inside at nose tackle or defensive tackle on defense and then on offense, I was at right tackle.
"For my first year, I actually felt really comfortable playing right tackle. I actually had a lot of fun playing on that side and honestly, I could easily see myself playing offense in college, but I like to play both."
With two years of football under his belt including his first season of offensive line, Ale said he knows what he needs to work on and he's starting to formulate a schedule of camps he plans to hit this spring and summer.
"Honestly, I can work on everything," Ale said with a bit of a chuckle. "I need to work on my technique on offense. I felt like it was pretty good this year, but I have a lot of room to improve on that and then just the way I use my hands on defense and just getting stronger.
"I am planning to hit as many camps as possible this coming year because I want to get my name out there as much as possible," Ale noted. "I went to the Dirt Dawgs camp last summer at Washington and I had a great time.
"I played both ways when I was there, but I focused on offense because I needed to get as much coaching and as many reps as possible before my season, so I don't think I really showed them what I can do very well since it was really my first time working out at offensive line at a camp.
"I'll probably hit the Washington camp again, Washington State, Oregon State, Eastern Washington, there's a lot of camps I am looking at, so I'm going to sit down with my coaches and my parents to sort of work out my schedule and see which ones I can fit in and afford."
With his size and natural strength, Ale looks like a great fit inside along the defensive line once he gets to college, but with his improvement on offense, he could be a fit on either side of the ball.
We'll continue to keep tabs on Ale in the coming weeks and months and we will update news on him as it happens.