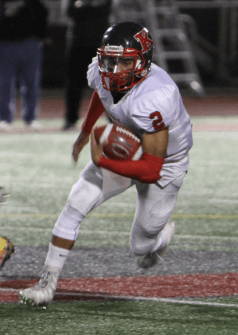 2017 Kings (Seattle) RB Caleb Perry continues to see interest from schools, but while he's keeping an open mind, he's focused on five schools and will announce his commitment to a program on January 5th.
"I still have the five offers I have had for a while — Montana State, Portland State, Cincinnati, Missouri and Washington State," Perry told Northwest Elite Index. "Arizona has been talking to me a lot since their season ended and they have been after me and they want to get me down there on a visit and that I have an offer pending, so that is another school that is after me, but right now, I'm just focused on the ones that have offered."
With his decision looming on January 5th, Perry said he knows what he'll be looking for from the school he ultimately chooses.
"I am definitely looking for the community," Perry noted. "It all comes down to community for me. How I bond with the coaches and the players and the support the program has. I lump that all into 'community', so that's the big thing I will be looking for.
"I set the date of January 5th because I have been hearing from the schools that have offered me for a while and I have had the chance to do a lot of research on them, so I feel good about having enough information to make my decision. I have already taken official visits to see Cincinnati and Missouri and I've got the one planned to Washington State on the 13th (of January).
"If I commit to another school, I am still planning to visit Washington State anyway, but I will still make my decision on the 5th and I feel confident it will be the right one."
As a senior this past season, Perry helped lead his team to a 6-3 season by totaling over 2,000 all-purpose yards and 20 scores and was named to the All-State team for the second-straight year.
"It was a good overall season for me and my team." Perry said. "Obviously we wanted to go further in the playoffs, but I think we came together as a team and we had a successful season."
We'll have more on Perry after he makes his decision shortly after the start of the new year.