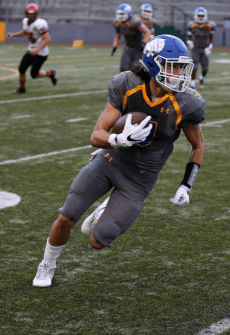 It took some time to get going, but Stadium (Tacoma, Wash.) WR Max Novak has been one of the fastest rising prospects as of late.
Novak's first offer on December 19th was from NAIA school Rocky Mountain College (Billings, MT). That was followed a day later by another NAIA offer, from Dakota State University (Madison, SD). His first D2 offer came on January 5th from Western State Colorado University (Gunnison, CO).
"I'm taking to a lot of NAIA Schools right now," Novak told Northwest Elite Index. "Montana Western and Montana Tech, mostly. Montana Tech is the closest to offering me."
This past season, Novak broke five school records, yards in a season (1,012), catches in a season (73), receiving touchdowns (12), yards in a game (203) and catches in a game (12). He was voted the Pierce County League's Offensive Skill Most Valuable Player, 1st team All-City, 2nd team All-Area and has been nominated for the All-State game.
The 6-foot, 180 pounder is known as one of the better route runners in the state. He does a great job creating space, has a high football IQ and strong hands (1 drop all season). Novak resembles a local NFL Hall-of-Famer, and even patterns his game after him.
"I try and model my game after Steve Largent," Novak said. "I love the way he caught the ball, ran precise routes, and was the ultimate competitor."
The competitor mentality is something Novak takes into the classroom, where he sports a 3.15 GPA while taking an AP University of Washington Literature and Composition class, which is actually a college sophomore course.
Novak has yet to take any official visits, and currently only has one on his radar.
"I'm going to Montana Tech (Butte, Montana) on January 22nd-23rd for an overnight visit," Novak noted. "I won't be able to take any more officials after that one because it's so close to Signing Day."
We are big fans of athletes that work hard on and off the field, while doing it with a great attitude, and Novak fits that mold. We will keep updated on any news regarding new offers and Novak's final decision.