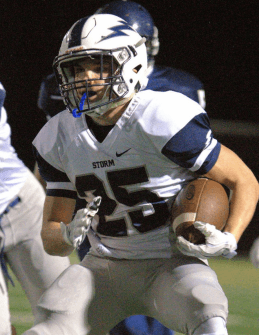 One of the top returning RB's in Washington next season will be Triston Smith of Squalicum High School in Bellingham.
The 5-foot-8, 170 pound, speedster finished with 1,418 yards and 19 touchdowns on way to a 1st team All-Wesco nomination during his junior campaign, an improvement over honorable mention as a sophomore.
"It felt great receiving 1st team All-Wesco," Smith told Northwest Elite Index. "I was honored to have received it, but it leaves me hungry for more. I put in a lot of offseason work last year to be as successful as possible, and I'm just going to have to put in even more work."
Smith's game is predicated on speed and his ability to make defenders miss. He is a capable receiver out of the backfield, and even with his size, isn't afraid to stand up in pass protection.
"I like to model my game after a Christian McCaffery," Smith says. "He's a real shifty and fast back who's also not afraid of contact, he also has an act for getting vertical and completely blowing by defenders."
Last season at Squalicum the Storm relied heavily on Air Force commit Ben Petersen. Next year, Smith looks to add an increased role on what has become one of the state's top offenses.
"It's a great opportunity and I am excited to take on a even bigger role on the offensive side of the ball," Smith said. "We expect nothing less than what we have accomplished on the offensive side of the ball, even without Ben out there, we believe in the coaching and trust in coach Lucey's game plan and I am beyond excited to help lead this team to a great year."
Smith works hard on and off the field. He is in the weight room to add weight, and will run track this spring to get even fast, but it is his work in the classroom that is really impressive.
"Throughout my high school career I have never received a grade lower than a B," Smith noted. "My current combined GPA is 3.45. I have not taken an ACT/ SAT test yet, but plan to this spring.
"I am also currently taking 2 AP classes and have taken 2 other AP classes in the past."
Time will tell with Smith, but with the right approach during the offseason camp circuit, and an increased workload during his senior season, he should realize his dream of playing college football.