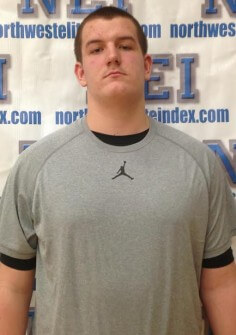 Recruiting starts early these days, and one kid who could hear from some top schools in the near future is West Linn lineman Alex Forsyth (6-4 285 OT). The talented sophomore earned all conference accolades in 2014, but it's his upside that speaks to his future.
Forsyth will lead what could be the most talented group of underclassmen returning in Oregon next season. The Lions went (9-3) on the year, losing to eventual state champion Central Catholic in the quarterfinals.
Alex has all of the tools necessary to compete at the highest level, and he will get an opportunity to show that on the camp circuit during the off season.
Referencing the future Forsyth says, "Ultimately I just want to work hard, be the best player I can, and make it to the next level."
Talent aside you have to look at athletes that want to work. Two of the first kids to the gym last weekend, during BFA's first elite event, were Oregon's top O lineman for 2016 & 17.
Alex and talented Tigard product Conner Crist (6-4 300 T 16′) both rank at the top of the charts and each set the tone early. You could very well see Forsyth listed among the top recruits in the region for the 2017 class.
Head Coach Chris Miller did an outstanding job of getting his young guys into the mix early. Forsyth flourished in the state's toughest conference, and should pick up some Evan Voeller like recruitment before all is said and done.
We will keep you updated on the talented big man as the off season continues.