Click for Mason Stone Highlights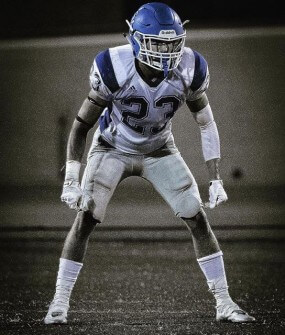 Last week we told you about former Graham-Kapowsin standout Dylan Campbell of Yuba College in Northern California. This week, we head about 425 miles south to Santa Monica College and check in on Mason Stone (6'0″ 180).
Stone was one the state's top two-way athletes during his time at Mountlake Terrace High School, and was signed up and ready to play D1 football when he got some bad news.
"Out of high school, I signed to the University of Idaho," Stone told Northwest Elite Index. "After moving onto campus, my coach informed me that there had been a mix up with my credits and the clearinghouse. I was initially informed that everything was acceptable, but later found out that a couple of my credits were discredited, which left me ineligble and deemed a non-qualifer.
"So essentially, it was a clearinghouse technicality. From there I came out to Santa Monica College and started fresh, and am now 10 weeks from graduating."
During high school Stone had interest from schools all across the spectrum. He had considerable interest from various Pac-12 school, most of the Big Sky, and even a few Ivy League schools.
Currently Stone is in the middle of his freshman season, after redshirting a year ago. He will have three years of eligibility and is a mid-year graduate, so he will have the ability to enroll at a 4-year university for the winter term, allowing him to participate in 2016 spring practices. Stone currently sports a 3.3 GPA and is part of the Deans Honor Roll.
Stone is a highly skilled defense back, showing good speed and ball skills. He plays with great instincts, which is aided by his hard work off the field.
"I study film meticulously," Stone said. "Which I feel I greatly benefit from every week. The preparation leading up to the game is the hard part, but once you get on the field and you have done all your homework on your opponent, playing the game is the fun part."
Santa Monica College Football is probably best known as the collegiate starting point of former NFL star Chad Johnson (Ochocinco), but currently there is a little northwest flavor to their roster.
"We have a handful of guys from the NW," Stone noted. "Justus Ross and Gerald Kennedy both from O'dea, and Marek Spooner-LeDuff from Bellevue. It is cool having other guys from home out here chasing the same dream as me. We all try to stick together since there are not many of us out here, hints why we are all roommates."
The Corsairs are 5-0 on the season, with a game this week against West Los Angeles College. We will be sure to keep you updated on Stone as he looks to be headed on the right path.