Click for Kaelin Himphill Highlights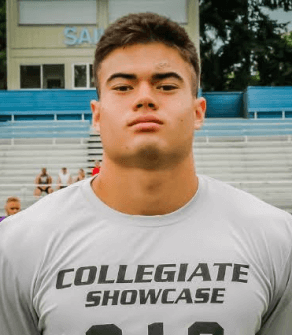 Since the start of the 2015 football season, there might not be a faster riser on recruiting boards than Liberty (Hillsboro, Or.) LB Kaelin Himphill.
"Right now I have offers from San Diego State, Utah State, Oregon State, Eastern Washington, Army, Hawaii and Portland State," Himphill told Northwest Elite Index recently. "I've also gotten a lot of mail from Wyoming and Kansas. Washington State has talked to me a little and a few other schools have sent me a lot of mail as well."
Himphill has yet to schedule an official visit, but he knows two schools that he does plan to visit.
"I actually just talked to San Diego State on the phone and we are talking about a couple of different weekends for when I can choose when I want to visit," Himphill noted. "I have also talked with Utah State about a couple of dates too, so those are two that I know I will visit. After those two though, I am not sure who else I will visit."
Himphill's approach to the game is a bit old school. He loves to play a physical style and he relies on his smarts and athleticism to get to the ball and then when he arrives, a big hit typically is what occurs.
"I can read things well and I have the speed to get to the ball quickly," Himphill noted. "I love to be physical, it's what I love to do, so playing that style of football is what I do best.
"I'm more of a run-stopper, but I can drop back into coverage or rush the quarterback, so I feel like I can do whatever the coaches need me to do."
As a junior last season, Himphill had over 60 tackles on the season and he was named a First Team All-League linebacker for his efforts. So far this fall, in just eight games, he's totaled 70 tackles, 15 tackles-for-loss, three pass breakups, two fumble recoveries and interception and three defensive touchdowns.
When you watch Himphill's film, you see a player who plays with abandon and is physical at the point of attack. He runs really well, doesn't get lost in traffic and he has a nose for the football.
As more schools get a look at him and what he can do between the lines, Himphill should see even more interest from Power Five programs and he could wind up being one of the gems of the 2016 recruiting class from the Pacific Northwest.