Click for Reid Roelofs Highlights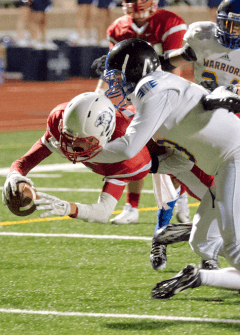 We don't talk a lot of 2B football on NEI, as that level of play isn't known for producing a ton of talent, but a player everyone needs to know is Reid Roelofs of Life Christian Academy in Tacoma.
The 6-foot-4, 175 pound senior is in his first year of high school football, but isn't a first year footballer.
"I played football from 4th grade to 8th grade and decided to give it up in high school," Roelofs told Northwest Elite Index. "Some of my coaches and teammates talked me into it, I love the game and want to play college ball. It's been a blast this year."
Roelofs is known more for his ability on the basketball court, where he is a three-year starter and All-League member, and came into his one and only year of football with very little expectations.
"My goals were to play and have fun with my teammates but it has completely changed," Roelofs said. "We are having a great year so far and we are competing for the state title. It's also fun to put up some pretty good individual numbers as well."
Just on his size alone Roelofs is a mismatch. Roelofs also adds speed, agility and great hands, and says he enjoys watching Demaryius Thomas of the Denver Broncos.
"He brings a physical style of play to his game that I try to emulate," Roelofs noted. "When there's a jump ball in the air, I'm coming down with it. My hands are probably my biggest strength. I also like to get the ball in space and feel like I can always make the first man miss."
Through five games Roelofs was averaging nearly 100 yards per game and leads the Eagles with eight touchdown receptions. He also leads the defense with eight interceptions, and does like playing that side of the ball, but admits he prefers the offensive side.
Recruiting is obviously slow with a majority of interest coming from D3 schools, with a handful of D2's sprinkled in. Roelofs does say he has a preferred walk-on spot at the University of Minnesota.
We will keep you updated on Roelofs and his teammates, as they look to make a run into the state tournament.