Click for Dontae Powell Highlights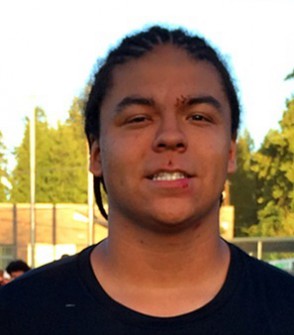 Richland (Wa.) High School doesn't produce a ton of high-level college talent, but this year the Bombers feature one of the top 2017 in-state linemen in Dontae Powell.
The 6'6, 280 pounder already has one offer and plenty of other schools are letting him know they like what they have seen so far.
"Washington State is currently the only school that has offered, but I have been been getting contacted by a lot of other schools," Powell told Northwest Elite Index. "Washington, Oregon State, Arizona, Utah State, Cal, UCLA, Notre Dame, Mississippi State, Indiana, Idaho, Purdue and Oregon are the ones contacting me quite a bit.
"So far the only unofficial visit I have taken is to go see Washington State for their homecoming game against Oregon State last week. Right now I don't have any plans to go see any other games, but I still might take a visit to see other schools this season."
With his size and natural athleticism, Powell wowed people on the camp circuit this past spring and summer and he's done nothing but impress so far this fall while helping lead Richland to a 7-1 record .
"This season has been amazing," Powell said. "I feel I am playing really well and to a level of excellence that I made as a goal for myself and my team and I have played each game like it's our last. I'm excited to see the outcome of the rest of the season."
This offseason, Powell got to work in the weight room, leading by example and also in the film room.
"I watched a lot of film and I hit the weights," Powell noted. "I wanted to be a leader and all of the work I did in the offseason has helped me be a better player so far this season."
Powell and his Bombers teammates will take on Southridge this weekend as they conclude their regular season.